COTE D'IVOIRE– Achille Comoe lived through crisis after crisis following the military coup of 1999. From the electoral crisis in 2000 to the civil war in 2002, peace in Cote d'Ivoire remained an elusive dream for many of the country's citizens.
"I saw dead people and stepped over corpses," Comoe recounted.
It was after witnessing this suffering first hand that he decided to make peace advocacy his life's work.
In 2007, Comoe formed the NGO Planète Paix, which translates to "Planet Peace" in English. The global peacekeeping organization addresses good governance, social well-being, human rights, gender equity and environmental issues.
Above all, Planète Paix hopes to prevent Cote d'Ivoire from repeating electoral failures of the past by promoting democracy and the rule of law.
With this goal in mind, Comoe traveled to Ghana in 2016 to attend the Young African Leaders Initiative (YALI) Techcamp. The theme of the workshop was "Elect Tech: Digital Strategies for Civic Engagement."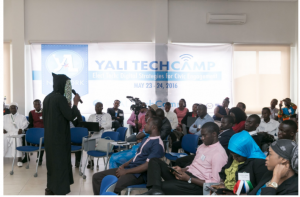 Participants worked with local and international experts to solve challenges they faced in the region, learning about low-cost technology tools and digital strategies to encourage participation in upcoming elections.
Here, Comoe created a digital civic engagement program called "Peace Digital Elections," which aims to promote peaceful, inclusive and participatory elections in 2020 in Côte d'Ivoire.
The platform includes features such as digital debates, workshops, video conferences, competitions, informative panels and more.
"TechCamp allowed me to understand the importance of digital tools as an enhancer of our social actions in different communities," Comoe said.  "And it really works. They amplify our field work and give us a higher chance to be heard and listened to."
After seeing the positive impact of digital tools on his community, Comoe successfully applied for YALI Techcamp Reconnect in Nigeria.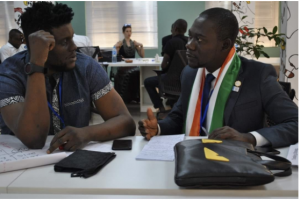 During the 3-day program, alumni and trainers reconvened to support the continued development of TechCamp-inspired projects such as Peace Digital Elections throughout Africa.
At Techcamp Reconnect, Comoe had the opportunity to continue learning new strategies to improve Peace Digital Elections, in addition to developing a second idea:  The Summit of Young Champions for Peace, Security and Sustainable Development.
Now on its fourth consecutive year, the recent initiative hosts a three-day event where hundreds of young activists gather to discuss major current issues.
"This program works to build a community of democracy and peace activists while strengthening their ties through social media and workshops," the summit website reads.
The 2020 Summit will take place Nov. 16-18, in Cameroon, with rolling registration for country champions, participants and panelists available here.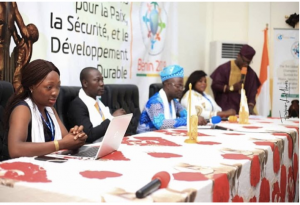 Côte d'Ivoire's upcoming presidential election is scheduled for Oct. 31, 2020. With current President Alassane Ouattara ruling out a third-term re-election, many wonder if the electoral process will go smoothly, or resort back to the instability of the civil-war era.
This uncertainty makes supporting programs that promote civic engagement and fair elections more important than ever.
When asked what advice he would give to young leaders around the world, Comoe said, "Never give up though things seem to be difficult… Always have the idea of giving back to their community, for no sacrifice is big enough for the community we live in. And above all, let them keep in mind that there is more joy in giving rather than receiving."