The first TechCamp I participated in was organized by the Department of State in Ghana and brought together participants from Côte d'Ivoire, The Gambia, Liberia, Nigeria and Ghana who are members of the Young African Leaders Initiative (YALI).
During the TechCamp, I trained participants on strategies for messaging campaigns and how to mobilize citizens. During my session, we came up with the initiative "#WeParticipate", a tagline for galvanizing young people for electoral participation.
After my session, a young Gambian participant, Marr Nyang, walked up to me and said that because he was so inspired with our #WeParticipate, he wanted to personalize the initiative and streamline it into a country-specific concept: #GambiaParticipates.
I loved Marr's idea because I immediately understood the connection between what we did in Follow The Money, blending online and offline tools to effectively reach our target audience, and the inherent advantages in #GambiaParticipates.
So I helped Marr fine-tune the idea. We worked on uploading useful materials to share on the social media space in The Gambia, while harnessing social media, messaging and online community development skills Marr must have garnered at the YALI TechCamp.
When he got back to The Gambia, he used social media effectively and spread his new initiative. His strategy was mobilizing young people, and telling them to go and get registered and to come out on election day and vote.
The ingenuity of #GambiaParticipates was that it never endorsed any particular candidate, but was just telling the electorate to come and participate in the country's political process. Thankfully, it was well received.
In his final report on the results of #GambiaParticipates, Marr wrote:  "The project has successfully contributed immensely towards voter registration, participation …and minimization of voter apathy in The Gambia. It also contributed to the unprecedented voter turnout of the 2016 presidential election of the Gambia. These were the main goals and objectives of the project and successfully; they were all met."
Today, The Gambia has become our first international outpost, as Marr started to run Follow The Money in his country.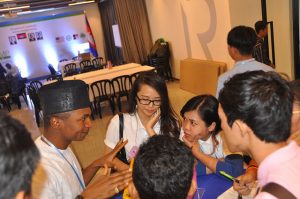 After this project was so successful, I realized the importance of such programs as the Department of State's TechCamp in empowering young Africans with requisite tools to positively influence their society.
This was why it was a great honor to be invited again by the TechCamp team to participate as a trainer in two other TechCamps, in Zambia and Cambodia.
At TechCamp Zambia, participants came from the Southern African countries of Malawi, Zimbabwe, Zambia and Namibia. At TechCamp Cambodia more than 60 members of the Young Southeast Asian Leaders Initiative (YSEALI) were brought from Cambodia, Laos, Vietnam, Thailand and Burma. At my session, I trained them on messaging and digital campaigning techniques and launched a joint campaign on the threats faced along the Lower Mekong region. From my interactions, it became obvious that the people in the Southeast Asian region could relate to the work we do in Follow The Money, as transparency and accountability are issues that also affect their political systems.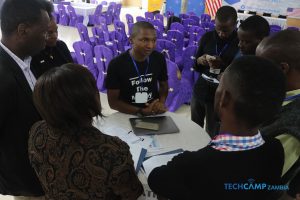 More so, it is gladdening that our humble efforts that sprouted in Nigeria have found an international space to grow, as Follow The Money has gone global, with people in America and in Europe getting more interested in what we are doing and showing interest in achieving more with us. We now have a social mobilization platform with over 2,000 people from across the world  ~ www.ifollowthemoney.org
Hamzat Lawal is a campaigner and the Founder of Follow The Money International. Check out his TechCamp trainer bio here. You can learn more about #GambiaParticipates here.