Since they first met at the 2016 Young African Leaders Initiative (YALI) TechCamp in Ghana, Moses Mwansa, (TechCamp participant and founder of Copperbelt Innovation and Technology) and Tomas Rakos, (TechCamp expert and founder of Participation Factory) have become friends and partners in developing participatory campaigns. In addition, they execute capacity building trainings, have presented on the floor of the UN, and work together on a multitude of projects. Their first project, "My School, My Vote," was developed at TechCamp and was one of the first school-based participatory budgeting initiatives in Africa.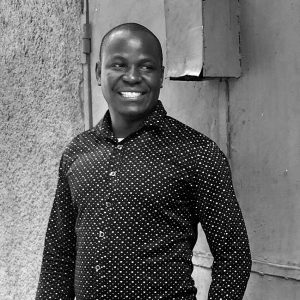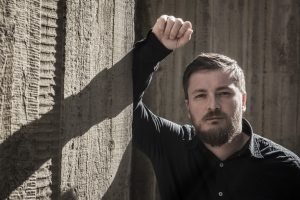 Mwansa, who hails from Kitwe, Zambia, was passionate about encouraging youth engagement in his community. "I had a good job," says Mwansa, "but what I noticed was that youth were not participating in the affairs of their community. I started a campaign that would encourage young people to engage in their communities." Rakos was a TechCamp trainer from the Czech Republic with an extensive background in designing participatory processes, and he assisted Mwansa with designing the first plans for My School My Vote. 
According to Mwansa, Rakos's session stood out to him immediately because his tools and strategies fit closely with his community engagement goals. "[Rakos] was one of the people that caught what I really wanted to change about my community," he says. Rakos introduced Mwansa to participatory budgeting (PB), a democratic process in which citizens are called to take part in the allocation of funding for their community. The citizens are placed at the forefront of decision-making in their neighborhoods and cities by submitting budget proposals that are voted on by the community at large.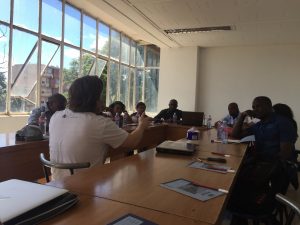 During Rakos's interactive training session, he and Mwansa designed a plan to bring participatory budgeting to Mwansa's hometown of Kitwe, Zambia. The action plan began with My School My Vote, a PB pilot project in local secondary schools. If the pilot was successful, Mwansa and others would work with city officials to bring PB to the municipal level. 
My School My Vote brought participatory budgeting into schools by allowing students to collaborate on budget proposals in a way similar to the real-world version. Although the students haven't reached voting age, youth are very influential and can bring the concept back to their larger community. "If you start with school participatory budgeting," says Rakos, "you implicitly attract a market approach towards the adult demographic." A school-based pilot is also an excellent civic education tool that encourages students to become active citizens. "It's a practical exercise in democracy," says Mwansa. "[They can] start developing these skills now, learning to discuss differences in a civil way, campaigning, and proposing to better their lives and community."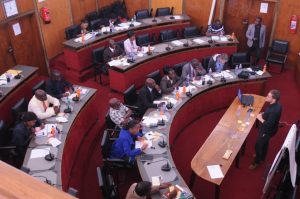 Across the two schools, students submitted over 140 budget proposals, which were then voted upon by the student body. The winning teams received funds to stock one school's computer lab with mice and fill other's science lab with chemicals and equipment. Funds came in part from a TechCamp small grant, and Mwansa also received in-kind assistance such as training from Rakos, and free conference space provided by the American Corner in Kitwe. Mwansa was later invited to speak at several events, including the UN ECOSOC Best Practices Showcase and the March 2019 YALI TechCamp Reconnect in Nigeria, where he spoke on the TechCamp success cases panel.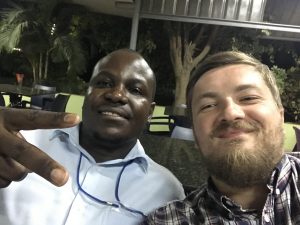 Currently, Mwansa and Rakos are continuing with the plan they originally developed at the 2016 Ghana TechCamp. This summer, they held a capacity-building workshop with Kitwe city officials, the first step towards implementing participatory planning in the city. Mwansa is also developing training for similar projects across Africa. "The benefit in doing it in Zambia is applicable in other countries," he explains. "[We] introduce the concept and then help them with the process." The training will be supplemented by a website with open-access materials and resources for PB project development. In addition, Mwansa has recently founded a startup incubator and innovation hub, Copperbelt Innovation and Technology. The incubator has already registered five start-ups and is testing them for market fit. 
Rakos attests their projects' success to the development opportunities available at TechCamp, as well as the connections made there. "You're meeting with the smartest people in the region," he says. "It enriches what we do here in Europe and elsewhere." Most recently, Rakos co-founded Participation Factory, a social impact enterprise that aims to support participatory processes in the Czech Republic and beyond. There, Rakos designs and evaluates participatory processes, provides training, and serves as a civic tech advisor for municipalities, politicians, NGOs, and others.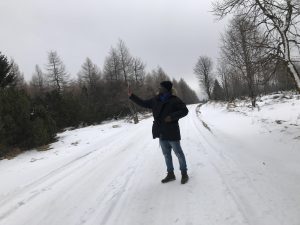 Since their first meeting as TechCamp trainer and trainee, Mwansa and Rakos have built a strong relationship of mentorship and collaboration. Rakos admires Mwansa's persistence and drive. "He's a dreamer… he dreams big and goes after those dreams," he comments. Each has visited the other's country multiple times for training and conferences. Mwansa plans to visit the Czech Republic in February 2020 to develop a new startup accelerator project, yet another product of the relationship they built three years ago at the Ghana TechCamp.