New TechCamp trainers have asked me, "What is TechCamp all about and how should I prepare myself to be a TechCamp trainer?"  My advice: share a story from your own experience that participants can learn from, replicate and apply to their own work. TechCamp is all about learning from others, and creating new ideas together. When I first came to TechCamp I had a story to tell, and this inspired participants to create new projects and ideas based on what they learned. This shared experience was essential to the projects that developed after the event.
Let me tell you my story about my road to becoming a TechCamp trainer.
If anyone had told me then that our work in Bagega over six years ago would spiral into what it is today, I would not have believed it. It all started with a need. Our team was formed as a response to what became one of the worst incidences of lead poisoning in modern history. In Bagega, Zamfara State of Nigeria, our young and inexperienced minds were shocked beyond words at how children were suffering from weird symptoms, and, in many cases, had died from lead poisoning.
Follow The Money (the project I now head and share about at TechCamp), came to be when we documented the needs of the community members themselves – interviews, photos, videos, and surveys that were recorded via mobile devices – and discovered that these were ordinary people with ordinary demands from a government that ordinarily would have supplied these needs without any bottlenecks. What cut the flow of budgeted resources?
Our team used the information we acquired to identify and plan how the government could intervene. #SaveBagega became the lifeline to an endangered community. When the government, and the world, finally reached out to them, we realized that Bagega was just a microcosm of the governance condition in most parts of the developing world.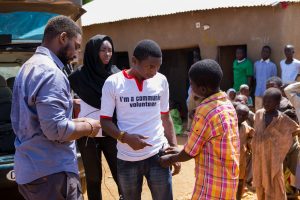 Leveraging on our experience, we streamlined a social media campaign and data visualizations, which helped policy makers to quickly understand the circumstances and allowed for swift decision-making. They also speedily brought the crisis scenario to the front burner while allowing major players and opinion leaders to know where to channel resources.
This is our story. And this was the message Emmanuel Etim, the acclaimed award winning multi-media development story-teller sought to relay to the world via his Open Society Initiative for West Africa (OSIWA) – funded documentary in 2014.
While working on his project, Emmanuel reached out to me, explaining that everyone he talked to, told him, "You need to talk to Hamzy of Follow The Money!"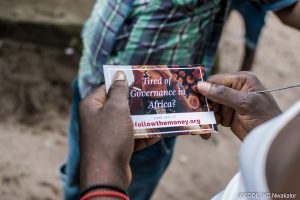 I finally met his research team in Washington DC when I attended the 2014 Climate March in New York. It was under the soothing warm embrace of a restaurant across from the World Bank offices in DC that I narrated to Nosa Garrik (Etim's executive producer) what transpired in Bagega. And, before I joined my three-hour train ride back to New York, we had a commitment to include Follow The Money in their project.
They were enthralled with what we did in Bagega and they said I would be featured in the OSIWA funded documentary. Etim, Nosa and another colleague and TechCamp trainer Blaise Aboh from Orodata Science & Code from Africa, and I traveled to Bagega, Nigeria, and filmed for days in order to capture the spirit and the captivating transformation of the once-damaged-but-now-repaired community.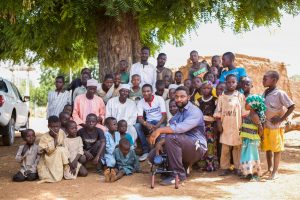 The footage from Bagega caught the eye of the United States Department of State's TechCamp team when Emmanuel presented his documentary at a YALI Tech Camp in South Africa when serving as a TechCamp trainer. Eventually, convinced of the potentials of the project we were running, the TechCamp team adopted me as one of its YALI trainers, and the rest was history.