Bigger ambitions. The desire to have impact. The excitement of building something that makes a difference. Those were some of the factors motivating the young, inspiring entrepreneurs I had the pleasure to meet at TechCamp.
My name is Vivek Kumar and I'm the CEO and founder of Qlicket. I was recently invited to serve as a trainer at TechCamp Chennai — an intense, two-day event designed to equip first-generation entrepreneurs from disadvantaged backgrounds in India, Sri Lanka, Nepal, Bhutan and the Maldives with skills, tools and resources to improve their digital literacy and communication capacity and scale their businesses.
#techThursday @Qlicket Vivek Kumar #geeksessions #techcampCHN #innovation @SamhitaDotOrg pic.twitter.com/BQwUyeUmqk

— US Consulate Chennai (@USAndChennai) July 20, 2017
It was one of the best experiences I have ever had.
The talks, workshops and pitch competitions highlighted innovative ways technology is being used to solve social and practical problems in the participants' communities. What's more, the solutions they're developing go beyond short-term fixes. They are truly opening doors for communities and creating new social and economic opportunities.
It was fantastic to meet so many talented people, learn about the initiatives they're working on, and share ideas to fuel growth. Below, you'll find the profile of three individuals whose efforts really struck a chord with me:
Srishti Bakshi is the managing director of CrossBow Limited, an organization set up to empower women and end violence against them. In a few short weeks, Srishti will begin a 2,300-mile walk from Tamil Nadu in south India to Srinagar in the north of the subcontinent with the aim of collecting 1 BILLION STEPS toward making India a safer country for women. Srishti will meet people along her journey from village to village, spreading her message of female empowerment and promoting healthy discussion to challenge the deep-rooted gender biases she says are still present in the country. She's a dear friend and I wish her all the best for taking on this project to make the world a better place.
@BakshiSrishti – trainer at tech camp in chennai hosted by global india fund and US state department #TechCampCHN pic.twitter.com/1FHPihUEqg

— Arrow (@arrowbycrossBow) July 20, 2017
Nawneet Ranjan is behind Dharavi Diary, where he is teaching youth in one of the world's largest slums to write code and build apps. Dharavi is in India's second largest city, Mumbai. Nawneet, who was studying at a film school in San Francisco at the time, first visited the slum back in 2011 to produce the film Dharavi Diary, documenting the daily lives of the citizens of the slum. He then returned in 2014 to build a social enterprise of the same name that helps Dharavi's citizens.
Nawneet set up a variety of different initiatives, most notably one that teaches girls how to code. Using the open-source development tool MIT App Inventor, girls can build apps that tackle everyday social problems, from sexual harassment to lack of access to water and education. It was amazing to meet this recipient of the Google Rise Award (one of 30 organizations in 18 countries) doing incredible things to make a positive difference in the lives of people there.
Finally, J. Shyam Jude and his team of engineers at Analog and Digital Labs are a research and development company installing intelligent traffic signals across India. They aim to help increase safety and enable better traffic management on increasingly busy roads. His company already maintains all of the traffic signals in Chennai. As someone who suffered a concussion from a road-safety accident in India on a previous trip, I feel a soft spot for the work Shyam and his team are doing.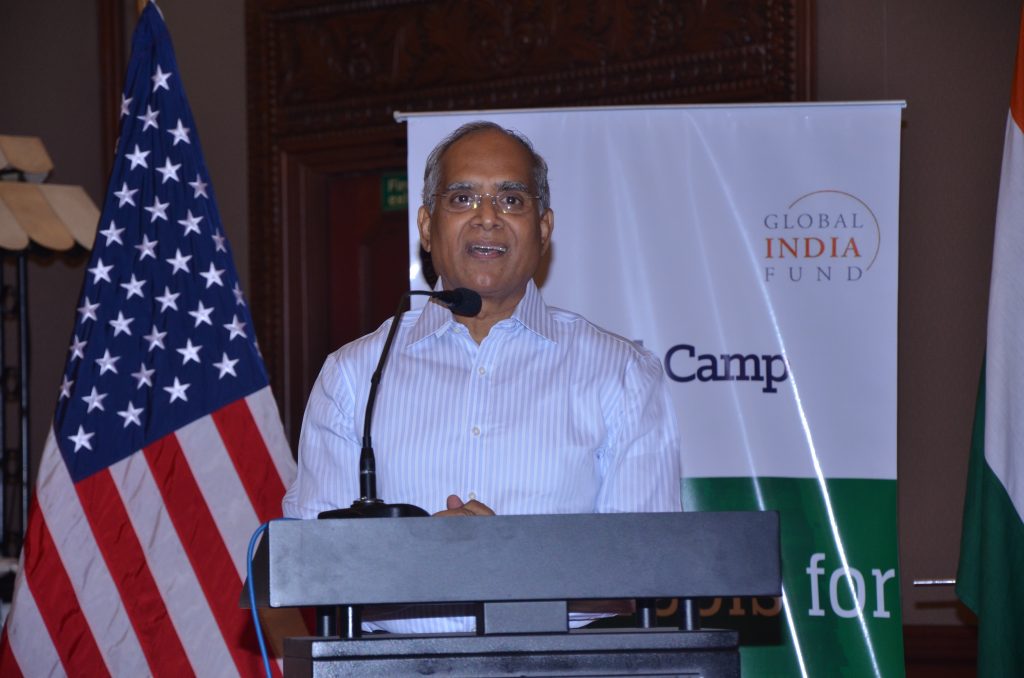 There were engaging speeches too. It was very nice to hear Lakshmi Narayanan talking about how to successfully scale a business. In his address, the former CEO of Cognizant Technology Solutions added that there are plenty of opportunities for startups in India. I can certainly identify with that. When my co-founder and I started Qlicket, our mission was to bring everyday Indians online for free at public hotspots. While our direction has now changed — we're now focused on customer insights and intelligence via WiFi — our 20+ person support and engineering team still call Delhi home. We are proud to have talented, driven individuals working for the company.
Once again, I'm grateful to have been part of TechCamp Chennai. I'd like to extend a warm thank you to the U.S. Department of State, U.S. Consulate General Chennai, Global India Fund, Samhita, my fellow trainers, and most importantly, each of the participants.