"The U.S. Missions in India and Pakistan have a shared goal to strengthen people-to-people connections between Indians and Pakistanis for reasons of regional stability and cooperation," said Regional Public Engagement Specialist for South Asia Sarah Ziebell. "Our two missions also share priorities when it comes to supporting equal participation of women in the workplace. Thus, bringing together the force multipliers and creative energies of dynamic women social entrepreneurs in both nations seemed like a natural fit."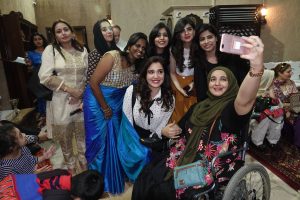 From the U.S. Mission in New Delhi, Ziebell was one of the driving forces behind the initial South Asia TechCamp, held in September of 2018, where female social entrepreneurs from India and Pakistan gathered in Dubai to receive technical training, learn valuable business skills and share their personal stories. The TechCamp team partnered with both the U.S. embassies in New Delhi and Islamabad to host this three-day workshop. The workshop sought to empower female entrepreneurs while fostering connections between Indians and Pakistanis.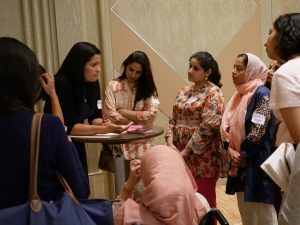 During the initial event in September 2018, the participants engaged in a series of skills development sessions with trainers from organizations including IDEO, Pakistan Poverty Alleviation Fund, Amazon and the Women's Digital League. The breakout sessions featured training on topics such as cloud solutions, reaching rural populations through mobile, using digital media for brand-building and more. The participants also broke into small groups to share challenges they've encountered when running their businesses in India and Pakistan. The workshop concluded with groups presenting an actionable solution to a challenge they had identified. 
"We thought that the TechCamp could not only build the individual technical skills of women who already were making a positive impact in their respective societies but also provide a unique opportunity for them to discuss together mutual challenges and form lasting relationships," Ziebell said. "We are delighted to see that this has happened, in abundance!"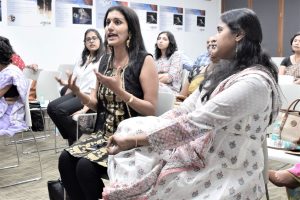 On September 13, almost exactly one year after TechCamp South Asia, Indian alumni of the workshop gathered at the American Center in New Delhi for a continued engagement event co-hosted with the Center's entrepreneurship incubator, the Nexus Start-Up Hub. The event opened with U.S. Speaker Merri Hanson who spoke about unique challenges faced by women in the workplace. Following this talk, participants were excited to reconnect and discuss the progress they have made since the original TechCamp. The event featured a showcase of small grant recipient projects from the TechCamp.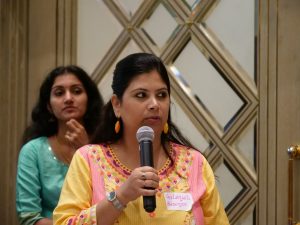 One of the small grant recipients, Gitanjali Banerjee, founder of FertilityDost, discussed how after TechCamp South Asia, she changed her company's name, logo and marketing strategy based on the training she received at the TechCamp. She also landed a deal from Harper Collins to write a book that examines fertility issues from the perspective of the patient, the first of its kind in India from a major publisher. She attributed her success in part to the mentoring she received at the TechCamp and from the Nexus Hub. 
After a Q&A with the grant recipients, other TechCamp alumni gave flash updates on their projects and start-ups. Surekha Waldia, founder of ENLA and Teachers Touchstone, shared how she used the skills she learned at TechCamp South Asia to develop a prototype for a new platform she was designing called myEplan. myEplan is a metrics measurement tool that helps K-12 teachers in India plan their learning outcomes and design better lesson plans. Waldia also said that, after learning about other opportunities from the TechCamp Slack channel, she applied and was accepted to the Bank of America Institute for Women's Entrepreneurship at Cornell University. She plans to officially launch her platform in January 2020.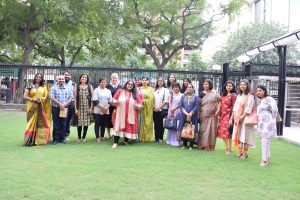 Both TechCamp South Asia and the alumni event in New Delhi underscore the value of bringing together female entrepreneurs to share stories and develop skills that will help them build their businesses. The Department of State and U.S. embassies in New Delhi and Islamabad will continue to follow the successes of the TechCamp alumni as they grow their ventures. These events could serve as inspiration for future collaboration between the two missions as they work to facilitate people-to-people interaction and form lasting ties that benefit all sides.