TechCamp South Asia alumna and small grant recipient Gitanjali Banerjee is connecting community with content to change the conversation around fertility in India. 
Banerjee is the creator of Fertility Dost, an online community where Indian women share stories, read articles, and learn about the options available for those who are struggling with fertility issues. After attending TechCamp South Asia in Dubai in 2018, Banerjee rebranded her website and forged friendships that have helped her take her business to the next level. 
Fertility Dost was born out of Banerjee's own struggle to have a child. 
"I got married and then after a year I said OK, I have to plan for a child," she said. "But then within ten years I had five miscarriages and a brush with ovarian cancer and my first IVF failed." 
Luckily, her second round of IVF was successful and she now has a five-year-old son. 
Over the course of her journey, Banerjee realized how little "India-centric" fertility information was available online. She said she saw a statistic that one in four couples in India have a fertility issue during their lifetime, but no one was talking about it. 
"So all of this triggered the idea that I need to do something and I started with sharing my story," she said. "There was no Indian woman who was standing up and saying, 'You know, I have been through this and this is normal.'"  
She began with a closed Facebook group where women could share their stories and get advice from one another. Because of the overwhelming number of responses in the Facebook group, Banerjee knew she was onto something big. Then, he launched her first website in mid-2016 and officially registered the website as a private limited company in December 2017. 
In September 2018, Banerjee had a breakthrough moment when she attended TechCamp South Asia in Dubai, which she learned about when one of her mentors forwarded her the application via WhatsApp. At the TechCamp, she worked with one of the trainers, OpenIDEO Innovation Manager Alex Nana-Sinkam, to change the website's name and logo. The site had originally been called Infertility Dost, but after getting feedback from other participants, she realized the name had a negative connotation. 
"It was amazingly well-received," Banerjee said of the name change. She immediately noticed more women sharing her posts online and engaging with her content after the rebranding. 
The trainers at the TechCamp also gave Banerjee the resources to move her website from WordPress, her original platform, to a secure encrypted platform in order to protect the sensitive personal data women were sharing on the site. 
TechCamp South Asia was especially unique because it brought together female entrepreneurs from India and Pakistan. Banerjee called the idea "revolutionary."
"It was like a childhood dream for me to meet someone from Pakistan for real and I can say for everyone from India, all 20 women, we were really stoked and excited to meet women from Pakistan." she said. "We were absolutely stunned to see how beautiful they were, how their language is so refined, and just like that, we bonded with them. We forgot everything about the tensions." 
At the TechCamp, Banerjee worked on a team with Saba Khalid, who was building a chatbot for women and girls in Pakistan called Raaji. The two began discussing how great it would be to add fertility resources into the chatbot and Banerjee agreed to create the content for the Pakistani bot. She then used the same content to create her own chatbot, which she had never thought of before.
"So now there are two chatbots with the same fertility content, one in India and one in Pakistan," she said. 
Banerjee still keeps in touch with participants from the TechCamp in a WhatsApp group and recently attended a follow-up event in New Delhi at the Nexus Start-Up Hub. She said it is hard to maintain contact with her Pakistani colleagues, but she still follows their updates on Facebook.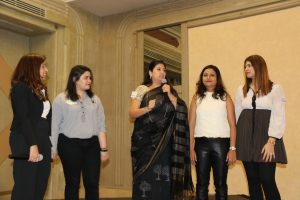 As Fertility Dost continues to grow, Banerjee is working on new tools to help women address their fertility issues. Her latest project, Map My Fertility, is funded in part by a small grant awarded at TechCamp South Asia. Map My Fertility is an algorithm she is building to encourage early detection of fertility issues. The software will help women self-diagnose whether they could have an issue like endometriosis or PCOS so they can quickly find an expert and begin treatment. 
Furthermore, Banerjee recently started an influencer program where women who have been through a fertility journey are trained as mentors for other women. They also serve as brand ambassadors for Fertility Dost and lead workshops and awareness campaigns. 
Banerjee's ultimate goal is to remove the stigma around discussing fertility issues in India. She recently signed a book deal with Harper Collins to write the first fertility book in India from a patient's perspective. She hopes that once the book comes out, she and Fertility Dost will be established at the dominant authority for fertility-related resources in India. 
As a female entrepreneur, Banerjee noted that women often need an extra push before turning their ideas into a business. She said she sat on the idea for Fertility Dost for two years before finally taking the leap that changed her life. 
"If you are thinking about something, don't have fear." she said. "Women tend to overthink a lot. Don't do that. Just jump into it!"