Surekha Waldia knew she could use artificial intelligence to help teachers in India create better lesson plans. But it was at TechCamp South Asia in Dubai that learned how to make it happen.
 "I come from a non-technical background and in order to guide my team, I had to understand the nuances that are involved in AI," Waldia said. "I realized [TechCamp] was a good opportunity to learn the various layers of artificial intelligence."
 Waldia and her team are designing an impact measurement metric tool called myEplan, which they hope will help promote better education management in India. She calls myEplan "a digital lesson plan diary" that helps teachers design lesson plans according to their desired learning outcomes.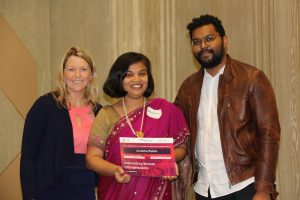 According to Waldia, the Indian education system is still using the same teaching methods from 30 years ago and not preparing students to confront 21st century challenges. MyEplan trains teachers to integrate real life problems into their curriculum and frame their lessons to help students develop better problem-solving skills.
 After working in the corporate world for almost a decade, Waldia noticed many new hires struggled to understand certain problems and identify practical solutions.
 "The current education system just revolves around exams to secure a spot in a desired college that will lead to a dream job, and it misses developing the right attitude towards life," she said.
 Waldia's journey began in 2012 when she and a group of teacher trainers began researching how to best assess the impact of in-service training in the classroom. Her company, Teachers Touchstone, originally focused on in-service training only, but they realized they could develop a data analysis tool to find best practices. They began developing a prototype and by 2018, they had received the results of their stage-two prototype. They knew artificial intelligence would help them create a better data analysis tool, but as a small team with almost zero revenue, they were unsure how to proceed.
 In June 2018, Waldia learned about TechCamp South Asia from the U.S. Embassy in India. She realized the TechCamp was the perfect opportunity to learn more about how she could use technology to bring myEplan to the next level.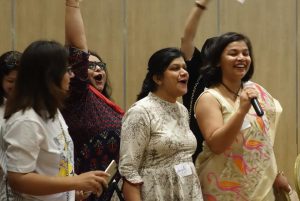 Waldia said the experienced mentors gave her suggestions on how to look at the problems with her prototype from another perspective. She also gained a better understanding of how to integrate AI into her prototype. After TechCamp South Asia, she received a $10,000 Amazon Web Services credit that gave her team the means to test their new ideas.
 "TechCamp really helped me and my team think through how we can overcome the challenges that keep coming up every day in our work," she said.
 Waldia also said she was inspired by the other women at TechCamp South Asia.
 "I met so many women entrepreneurs from both India and Pakistan who were doing amazing and inspiring work in so many fields that I had not imagined," she said. "The best part was the way everyone was using technology to make their work have a meaningful impact."
 After TechCamp South Asia, Waldia continued to use the Slack channel for alumni of the program. It was there that she learned about the Bank of American Institute for Women's Entrepreneurship at Cornell University, an online business bootcamp. She applied and was accepted for the six-month course, which she completed in August 2019. She also attended the alumni event in New Delhi in September 2019 to reconnect with the other participants and update each other on their progress.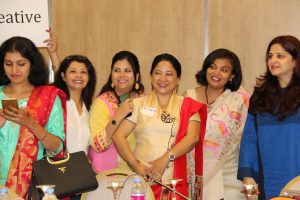 Her team has now tested the prototype for myEplan with 200 teachers to assess the specific issues that can be addressed through training. They hope to officially launch the project in India in April 2020 in the schools they have been partnering with.
 "In the next three years, we are looking to get this product into many private schools in India and make strides towards becoming the first-of-its-kind AI product that focuses on improving the quality of teaching," she said. "My team has been working towards making it into a product that will survive on its own and hopefully not have to seek investor funding in the initial years of its launch."
 For Waldia, the project has always been about passion. After her first son was born, she realized she wanted to switch fields in order to create the change she wished to see in India's education system. While leaving her corporate job was risky, she knew was doing the right thing.
 "Entrepreneurship is about passion and not just making money," she said. "Develop your passion into an idea that will help people."