Participants from
Argentina; Chile; Peru; United States; Uruguay
Description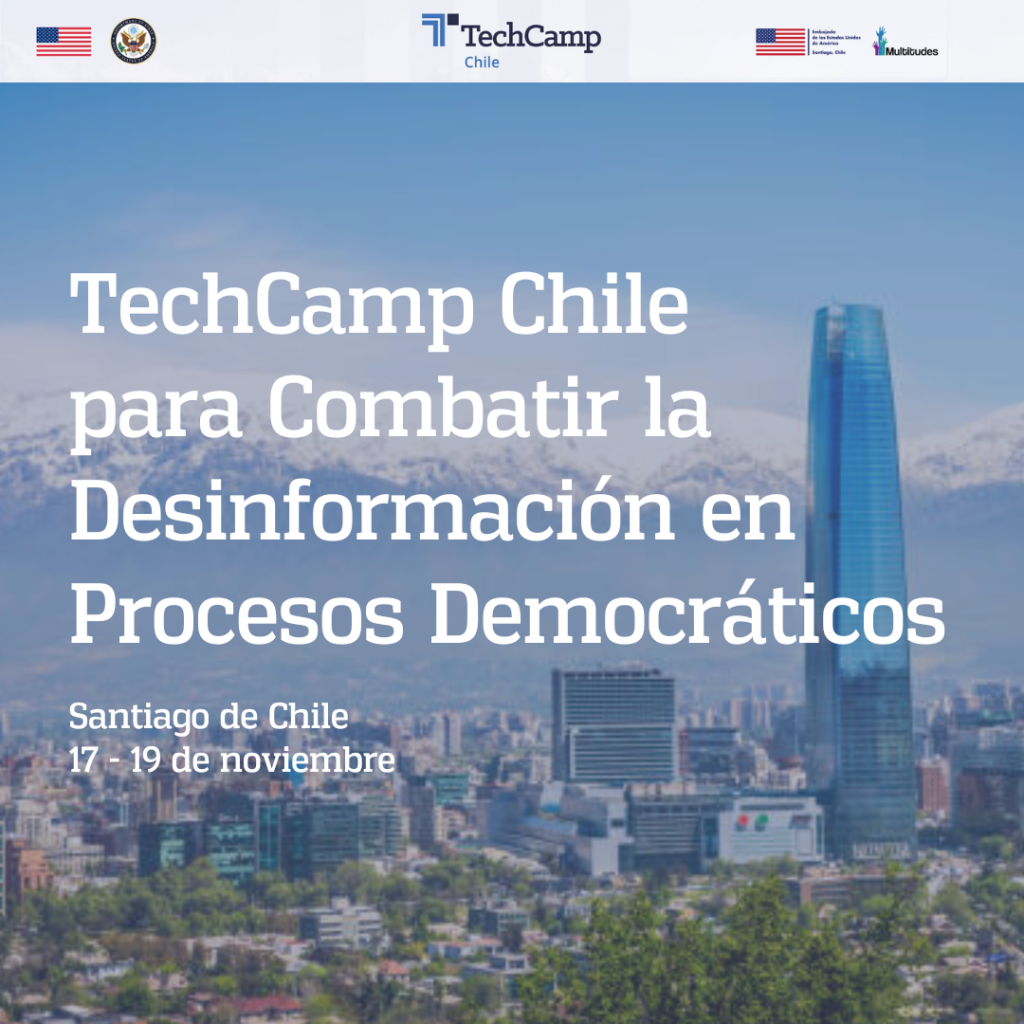 TechCamp Chile para Combatir la Desinformación en Procesos Democráticos
Chile tiene uno de los entornos digitales más florecientes de América Latina. Con el auge de las redes sociales, las noticias tradicionales, la radio y la transmisión de canales populares, los chilenos consumen ansiosamente su información de una manera puramente digital. Sin embargo, la creciente amenaza de la desinformación no se ha metabolizado como conocimiento público al mismo ritmo. Combinando una escasez de alfabetización mediática, niveles récord de contenido y una transformación política histórica en Chile; ahora es el momento de que los líderes con mentalidad global tomen medidas sobre los problemas fundamentales que afectan a la democracia. TechCamp Chile se estructura como un esfuerzo multisectorial de la sociedad chilena para colaborar con sus contrapartes en América Latina para mitigar de manera efectiva el impacto de la desinformación en los procesos electorales, particularmente cuando se enfoca como un mecanismo de violencia de género contra la participación política de las mujeres. En alianza con Fundación Multitudes, TechCamp Chile para Combatir la Desinformación en Procesos Democráticos se realizará en Santiago del 17 al 19 de noviembre.
TechCamp Chile to Combat Disinformation in Democratic Processes
Chile has one of the most flourishing digital environments in Latin America. Surging social media, traditional news, radio and streaming of popular channels, Chileans are eagerly consuming their information in a purely digital way. However, the rising threat of disinformation has not metabolized as public knowledge at the same rate. Combining a media literacy shortage, record breaking levels of content, and a historic political transformation in Chile; the time is now for globally-minded leaders to take action on core issues impacting democracy. TechCamp Chile is structured as a multi-sector effort of Chilean society to collaborate with counterparts in Latin America to effectively mitigate the impact of disinformation in electoral processes, particularly when it is focused as a mechanism of gender-based violence against women's participation in politics. In partnership with Fundación Multitudes, TechCamp Chile to Combat Disinformation in Democratic Processes will be held in Santiago November 17-19.