2022 was an exciting year for the TechCamp Program. We were able to resume in-person TechCamp events and completed 14 TechCamp workshops! We are proud to highlight some of the continued engagement activities that resulted from our TechCamps last year as we look forward to many more impactful projects in 2023, especially as we will be offering our first-ever TechCamp specific Alumni Engagement Innovation Fund (AEIF) Grants! Below is a chronological breakdown of 2022's TechCamp projects.
February 25-27, 2022 TechCamp Istanbul: Develop Games for a Better World, hosted by U.S. Consulate General Istanbul and implementation partner Bahçeşehir University Game Lab (BUG Lab).
Outcomes: Participants developed 20 games of which six were selected as finalists to be completed with mentorship from BUG Lab. The games were focused on the following subject areas: Countering Disinformation, Women's Empowerment & Gender Based Violence, and Environment/Climate Change, with two games selected representing each topic. Read more about the final games and the TechCamp here.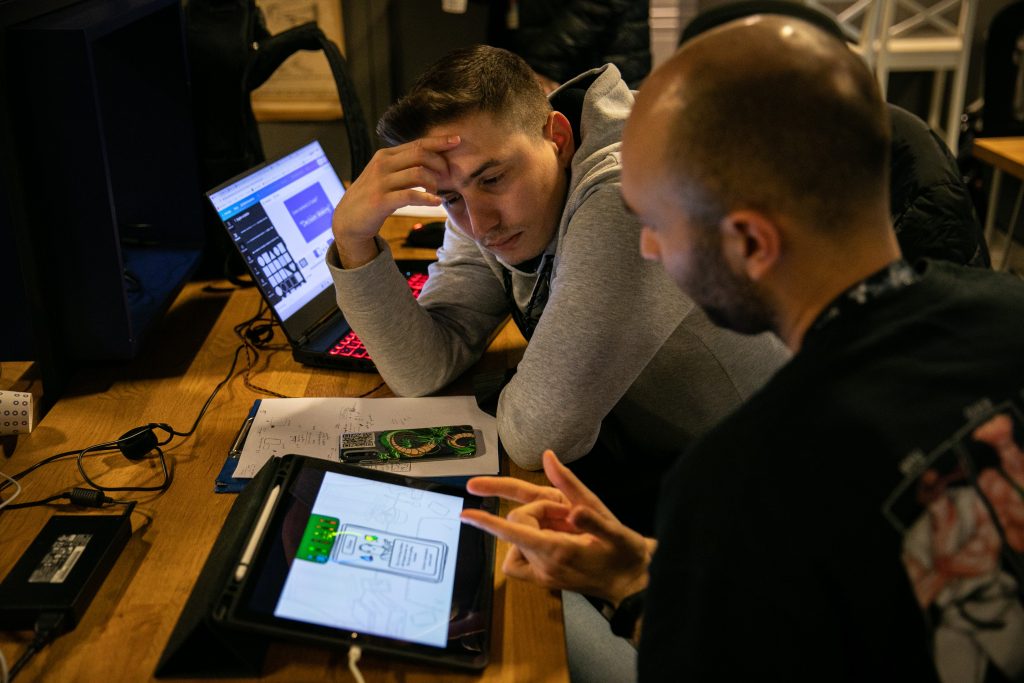 March 10-14, 2022 TechCamp Amman served as a pilot program enabling diverse stakeholders across Jordan to work together to create solutions for how to defend local and regional communities against disinformation campaigns. The TechCamp was hosted by the U.S. Embassy in Jordan in collaboration with implementing partners the Search for Common Ground, Jordan, and Tech Tribes. This video showcases highlights from TechCamp Amman (in Arabic).
March 17-19, 2022 TechCamp Kaohsiung was designed to empower indigenous entrepreneurs and future entrepreneurs in the south of Taiwan by providing them with access to private sector tech expertise and free or low-cost digital tools. The TechCamp was sponsored by the American Institute Taiwan/Kaohsiung (AIT/K), in collaboration with with implementing partners the National Sun Yat-sen University (NSYSU) and MZone. This video highlights the small grant winners from TechCamp Kaohsiung (in Mandarin).
April 1-3, 2022 TechCamp Arctic Experience, Tromsø, Norway, was hosted by The U.S. Embassy in Norway, with implementation partners Biotech North and Norinnova. The TechCamp convened participants from across the Arctic region to learn about shared challenges in their communities that could be solved by access to new technology and increased social entrepreneurship.
Outcomes: Four continued engagement projects including travel grants, "mini TechCamp" trainings, and small project grants like TENDRO/HERA: a project that created a platform where builders can define the submission and evaluation criteria of the tendering process; and Kelpinor: a project that planted 5 km of seedling line at a seaweed farm in Bodø, Norway, which is expected to produce a sustainable yield of approximately 10 metric tons of seaweed in June, 2023.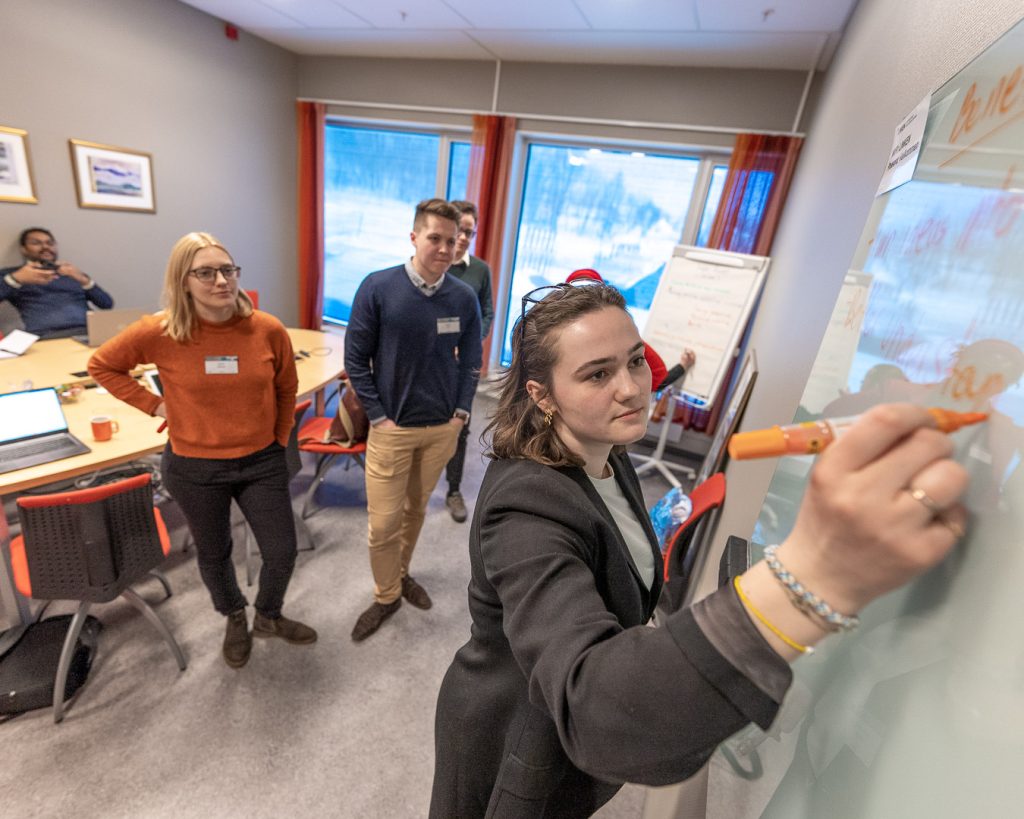 April 27-29, 2022 TechCamp Bishkek: Cleaner Air for Central Asia, was hosted by the U.S. Embassy in the Kyrgyz Republic in collaboration with implementation partner, MoveGreen. The TechCamp's aim was to increase the effectiveness of influencers and civil society advocates in Central Asia to conduct data-driven advocacy on air quality, and increase communities' access to reliable data and information that will help them make better health decisions and take action toward solutions.
Outcomes: Six projects were selected to receive small grants for implementation following the TechCamp including: expanding a website that presents air quality data visuals and providing open-access, a Clean Air mini TechCamp and youth 'Samarkand' for Clean Air, a health and air quality mapping visualization, an 'Eco-laboratory' for beginners, a prototype for an inexpensive air quality sensor, and a training on air quality indices for local government officials across the participating countries: Kyrgyz Republic, Kazakhstan, Tajikistan and Uzbekistan.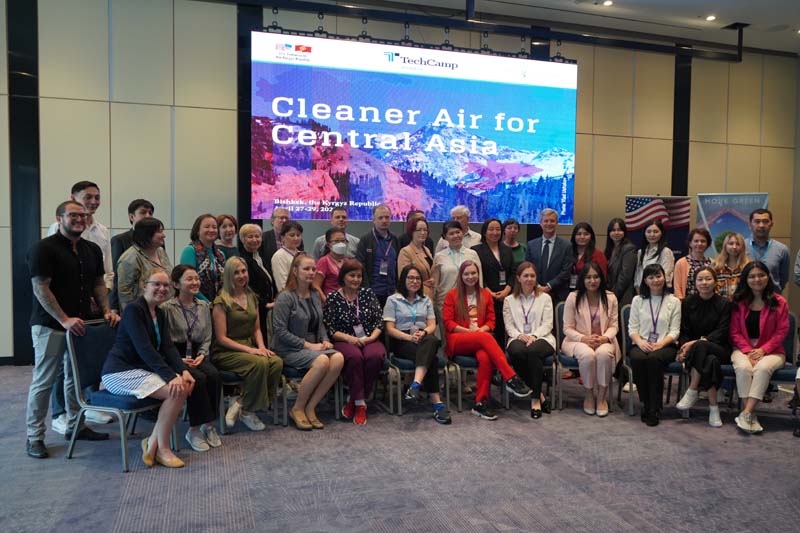 May 18-19, 2022 TechCamp Slovenia Advocating for a Cybersecure World focused on building the skills needed for participants to inform the public and key policy-makers in their communities of the importance of building a cybersecurity infrastructure. The regional TechCamp was hosted by the U.S. Embassy in Slovenia with implementing partner the Institute for Electronic Participation.
Outcomes: Following the TechCamp, a small grants competition was conducted and five projects and one travel grant to attend a training were selected for funding: Identifying Data Leaks for the Public Sector; Combating Disinformation and Misinformation via Machine Learning for Western Balkans; SMB – How to Improve and Protect Your Business; The Cyber Security Approach to Dismantling Disinformation; and Challenges in Government's Cybersecurity: Republic of North Macedonia. There will be a Capstone event in February, 2023.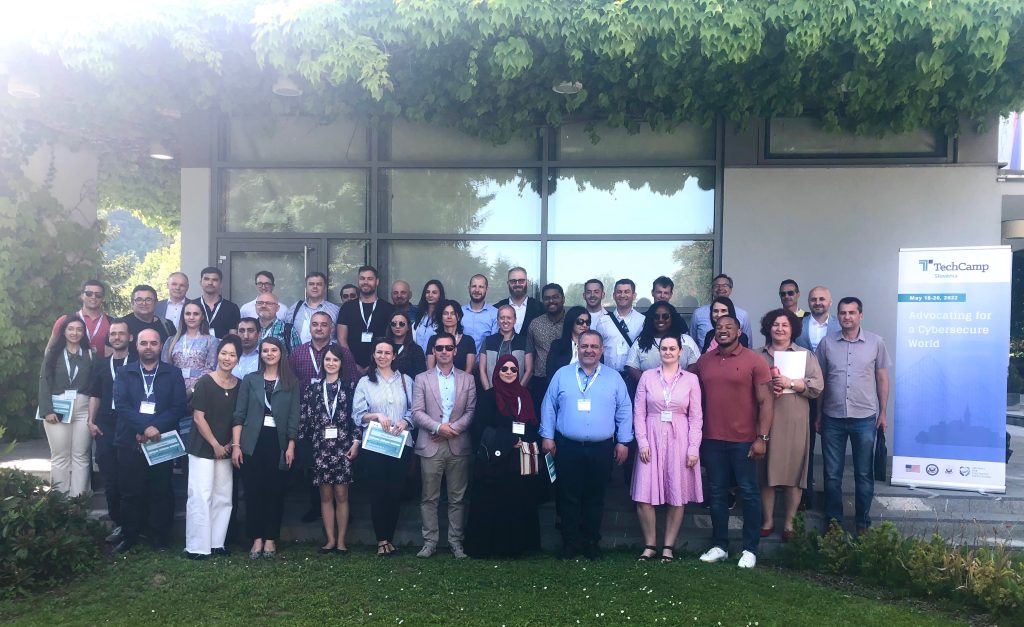 May 19-21, 2022 TechCamp Kochi Tech4Oceans: Innovative Solutions for a Sustainable Future was hosted by the U.S. Consulate-General, Chennai in collaboration with implementing partner the Centre for Public Policy Research. The TechCamp's purpose was to convene participants and trainers to address emerging oceanic environmental issues such as rising sea levels, deteriorating marine life, increased oceanic and surface temperatures, unregulated fishing, and marine pollution.
Outcomes: Eight small grant projects were selected for funding including a beach cleanup initiative, a GIS-based marine mammal bycatch study, a digital Marine Litter Mapping project and a plastic waste tracking, a mini TechCamp training, the development of an online B2B marketplace for seaweed cultivators in India, and an awareness campaign for Ghost Fishing Nets. Following the TechCamp workshop, a group of participants and trainers convened for a beach cleanup. This post has more details and photos.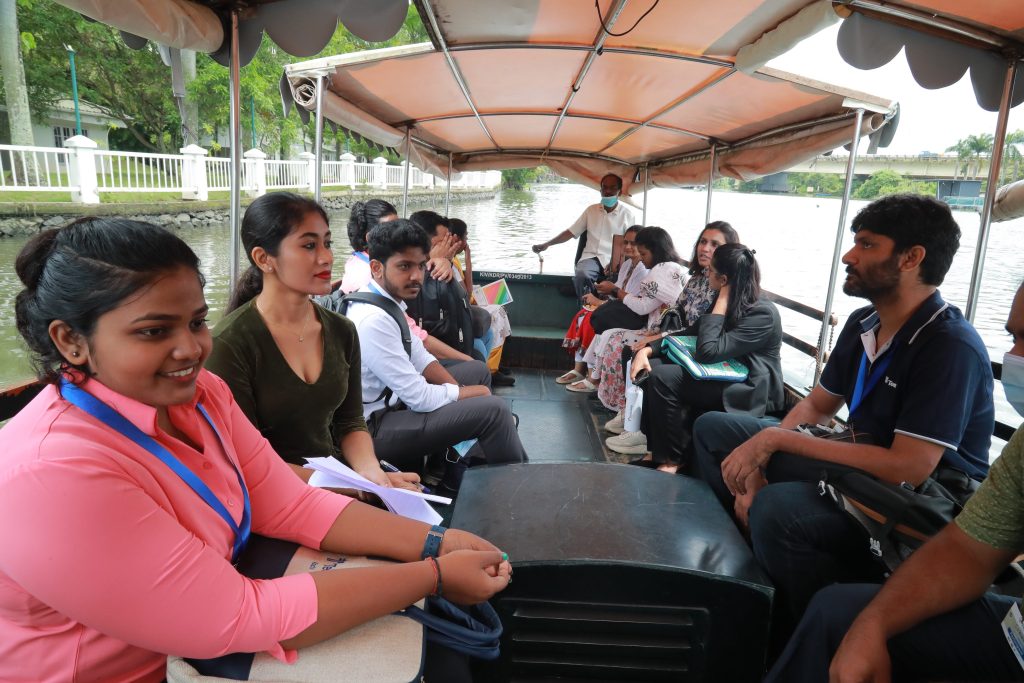 May 24-25, 2022 TechCamp Rome: Creating New Centers: Urban Regeneration and Civic Engagement, hosted by the U.S. Mission in Italy and Industrie Fluviali.
Outcomes: Three Continued Engagement projects were selected following the TechCamp to be administered in locations across Italy including: "Back to the Rural", in the Municipality of Roccascalegna and the Municipality of Pennapiedimonte (Abruzzo); Advocast, a podcast series about advocacy for civic engagement and urban regeneration in Rome; and "Porto Community", which will be implemented on Via del porto Fluviale, in Rome, Italy.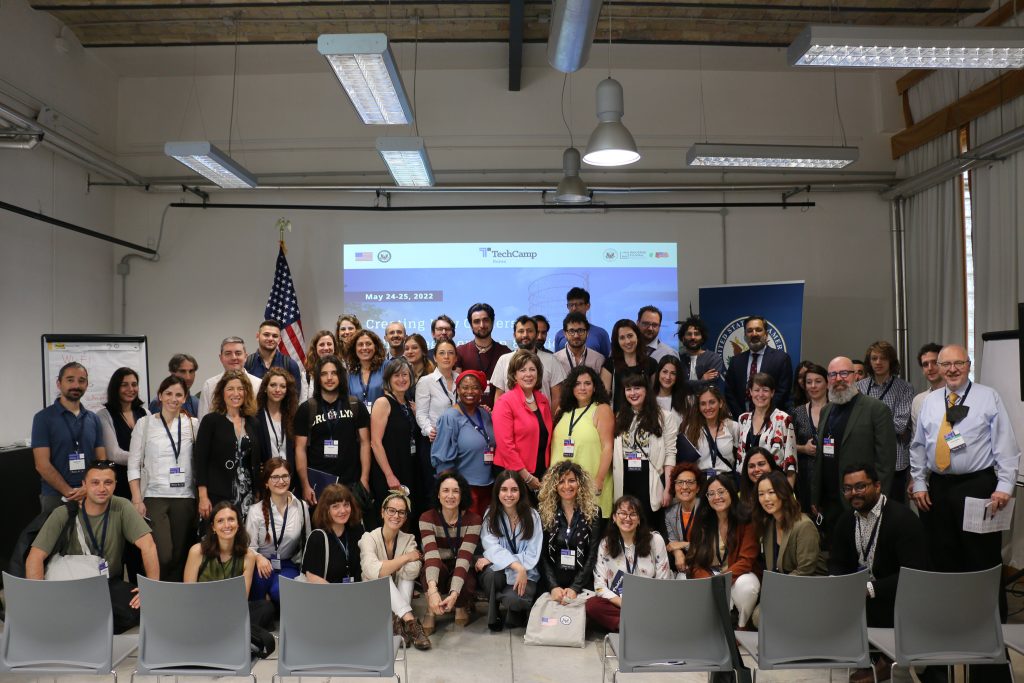 June 10-12, 2022 TechCamp San Salvador: Tech4Leaders, was hosted by the U.S. Embassy in San Salvador, with implementing partners Universidad Tecnológica de El Salvador (UTEC) and the Asociación de Becarios de Programas Educativos de los Estados Unidos de América (ABEU). The TechCamp convened content creators from across El Salvador with technologists and subject matter experts, to learn how digital storytelling techniques can be used to promote economic opportunities and tourism in the country as well as provide improved access to news and information.
Outcomes: Three project teams were selected for funding after a pitch competition: Pandemials.sv, a podcast for content creators that have found success during the pandemic; +Excepcionales, an initiative to create content for alternative education organizations; and Creator.ES, a digital masterclass on editing, graphic design, and optimizing digital content.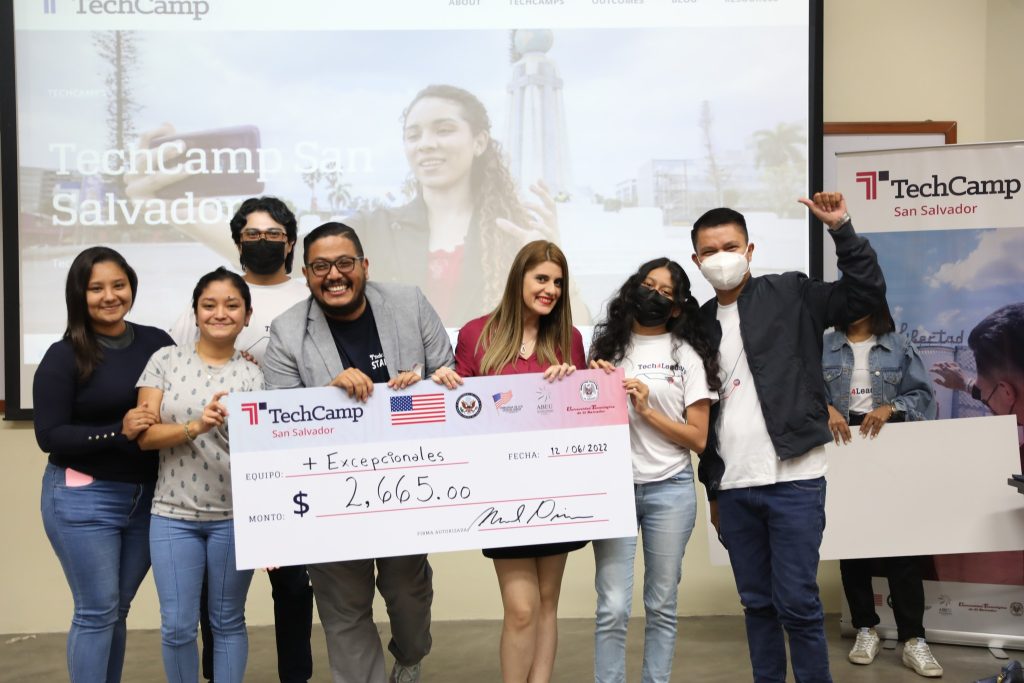 July 2-7, 2022 TechCamp Morocco: Preserving Cultural Heritage was the first ever Cultural Heritage themed TechCamp and it focused on the challenge of getting youth to engage meaningfully with cultural heritage, and bridging the generation gap between experts in heritage preservation and the younger generations who will inherit these cultural sites. The TechCamp was hosted by the U.S. Embassy in Morocco with implementing partner the High Atlas Foundation.
Outcomes: A two day Capstone event convened the program alumni and provided them with an opportunity to pitch ideas for small grant projects. You can read more about the three winning teams and the Capstone, which was attended by the U.S. Ambassador to Morocco, Puneet Talwar, in this blog post. The High Atlas Foundation created a Flickr album with more photos from the event.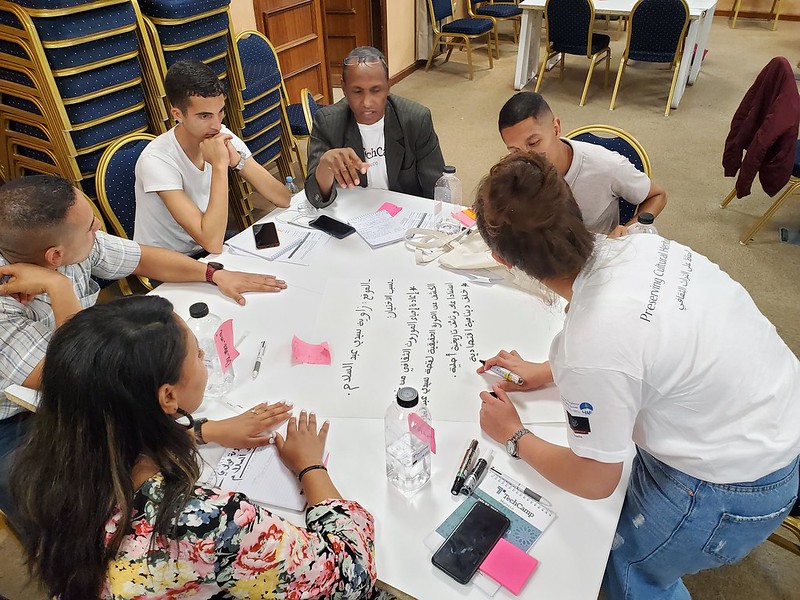 September 30-October 2, 2022 TechCamp Addis Ababa: Empowering Ethiopians through Media Literacy, hosted by the U.S. Embassy in Addis Ababa and implementing partners Google Developers Group Addis (GDG) and CAWEE. The TechCamp focused on improving media literacy in Ethiopia and countering misinformation.
Outcomes: A small grants competition was conducted and projects are in the final stage of being selected for funding.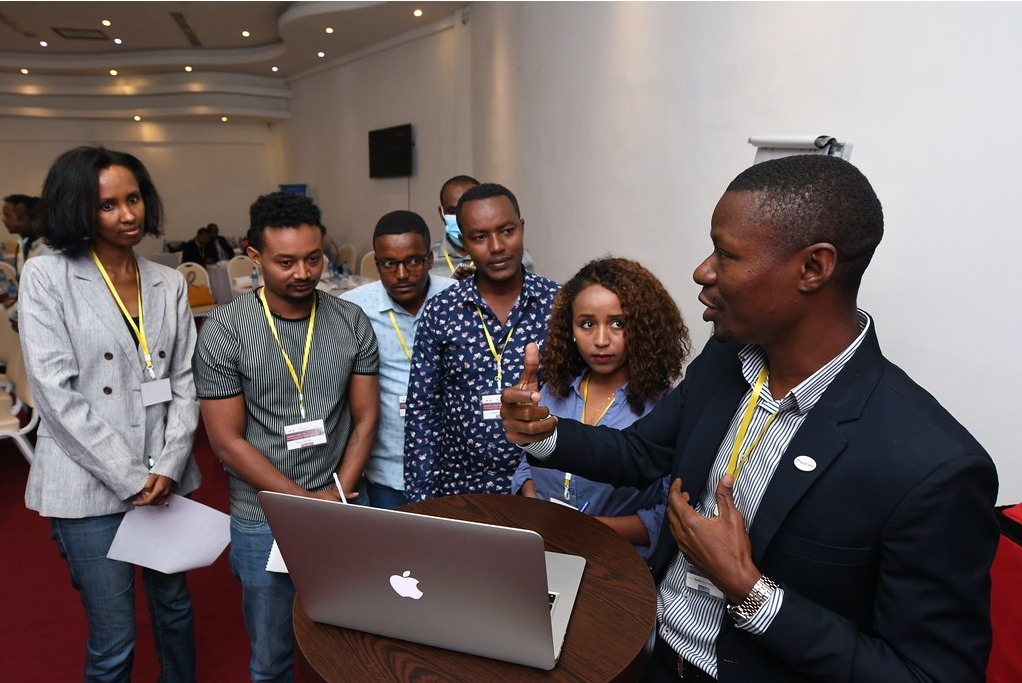 October 27-29, 2022 TechCamp Cochabamba: Disinformation in the Digital Era, was hosted by the U.S. Embassy in Bolivia and AmCham Bolivia. TechCamp Cochabamba aimed to increase the effectiveness of 60 influencers, journalists, and technology practitioners to enable their communities' ability tell true, effective stories.
Outcomes: Three small grants projects were funded following the event: Super Checkers, a platform for 11-to-15-year-olds to actively verify the information they consume on social networks and to encourage them to be agents of change in their communities; InfoBOT, a chatbot for WhatsApp that responds to users in real time to counter fake news/disinformation by verifying news articles; and Lupita, a digital platform that promotes the use of the Law on Transparency and Access to Public Information in Peru on issues related to public health, human rights, gender, education and the environment. Wrap up video from AmCham Bolivia with highlights from TechCamp Cochabamba (in Spanish)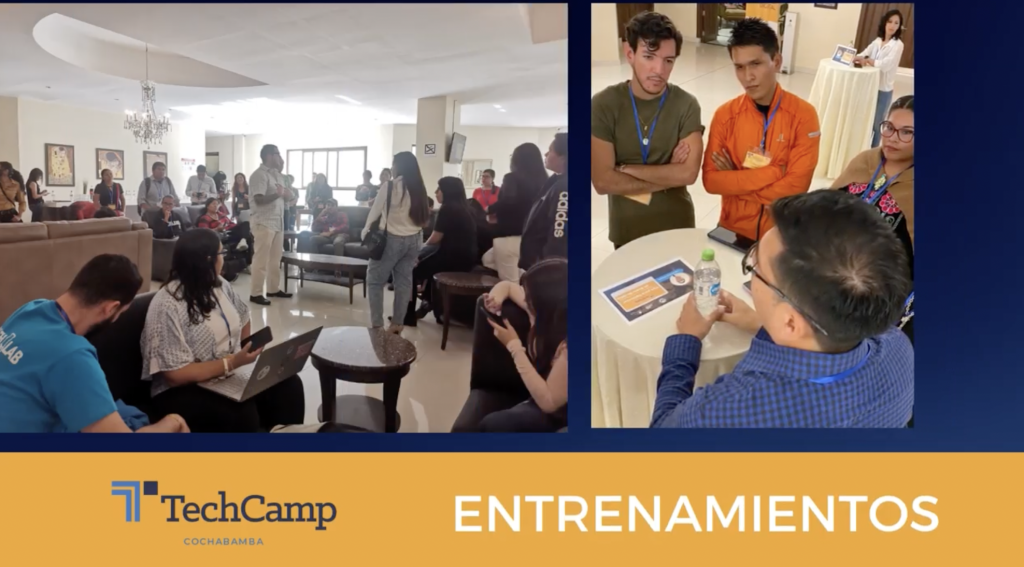 October 29-31, 2022 Young Pacific Leaders TechCamp for Climate Action took place in Auckland, New Zealand and was hosted by the U.S. Embassy in New Zealand in collaboration with implementation partner Cultural Vistas. This TechCamp was tied to the Auckland Climate Festival and convened 50 young leaders from more than 15 nations across the Pacific.
Outcomes: The TechCamp YPL continued engagement competition is still underway, with finalists to be announced in February, 2023. This video features highlights from TechCamp Young Pacific Leaders (YPL).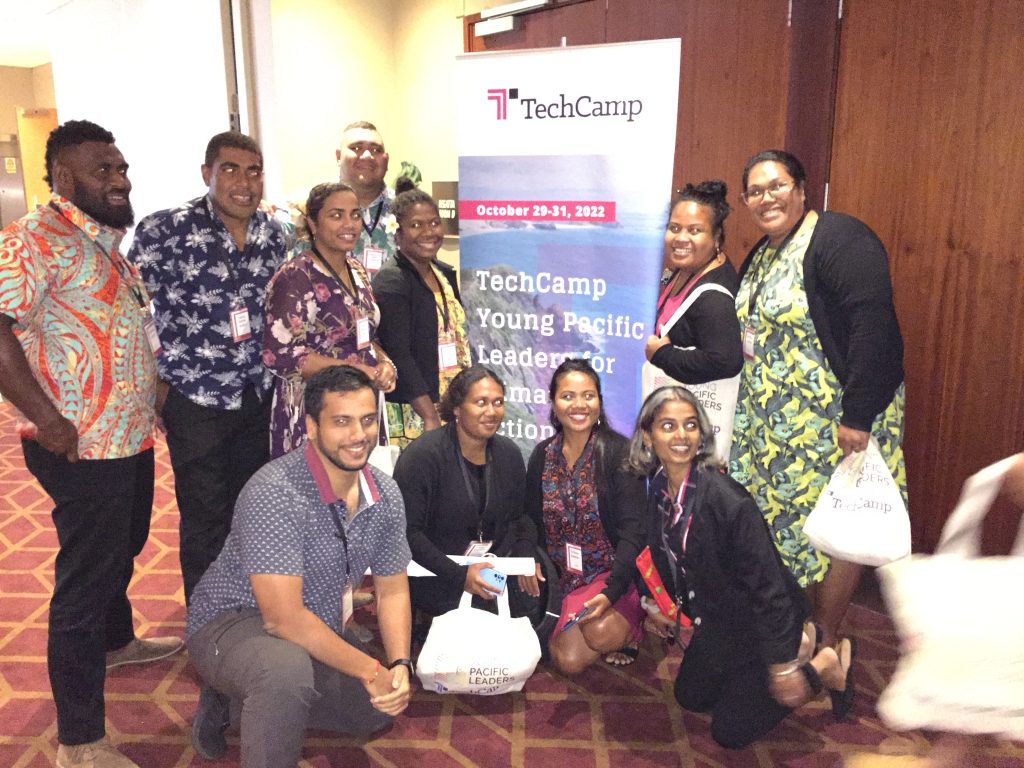 November 3-4, 2022 TechCamp Australia, Engineering Ethical Journalism, was hosted by the U.S. Consulate in Sydney in partnership with the Centre for Media Transition at the University of Technology, Sydney. The TechCamp connected news media experts with journalists and bloggers from across the Pacific to address issues with countering mis and disinformation.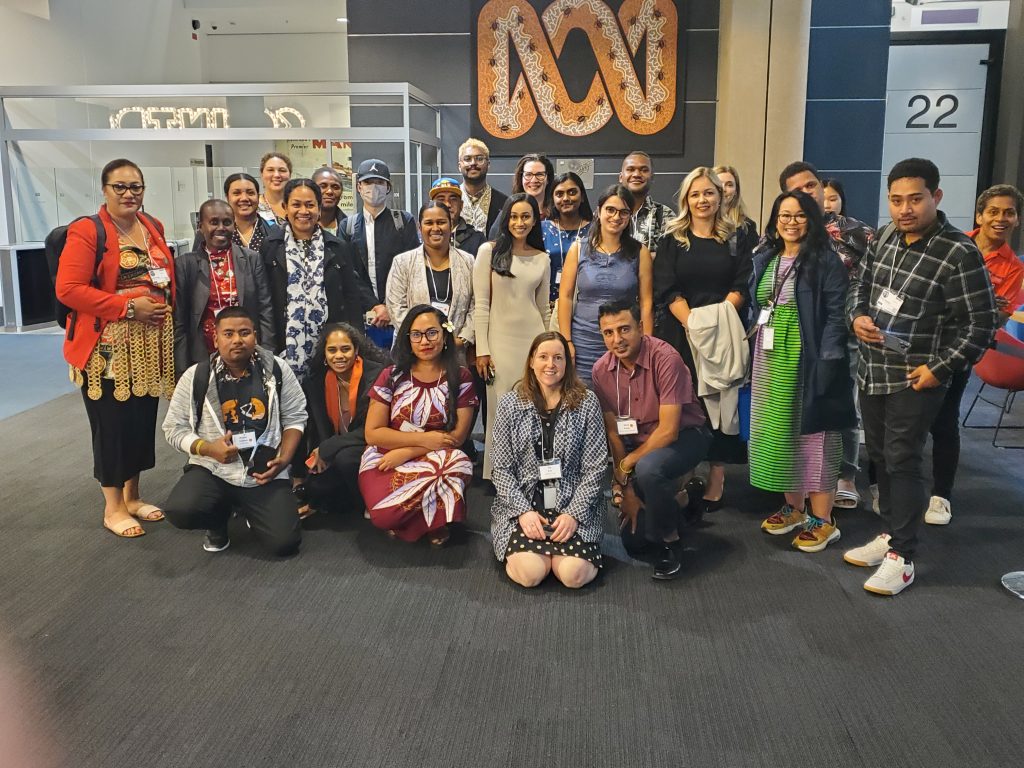 November 17-19, 2022 TechCamp Chile: Combating Disinformation in Democratic Processes, was a hybrid event hosted by the U.S. Embassy in Chile in partnership with implementation partner Fundación Multitudes. The TechCamp convened civil society advocates with experts to address ways to mitigate the impact of disinformation in electoral processes, particularly when it is focused as a mechanism of gender-based violence against women's participation in politics.
Outcomes: Small grants projects will be implemented that range from a training about how to navigate Chile's pension system, to a digital manual on civic engagement, to a card game that seeks to inform players about identifying and countering disinformation. Read a wrap up post from partner Fundacion Multitudes here.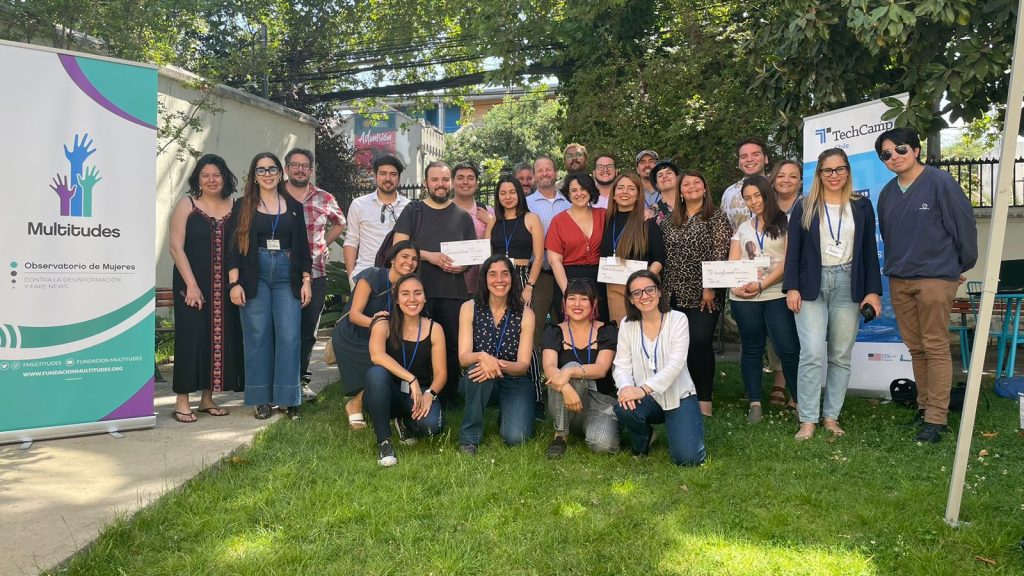 We look forward to seeing the final outcomes for these exciting TechCamp projects as the grantees complete them over the next several months. Meanwhile, the planning process for the next batch of TechCamps in 2023 is already underway!