In the aftermath of Myanmar's historic elections in November 2015, the U.S. Department of State, the U.S. Embassy in Rangoon, and Myanmar's leading innovation and startup incubator, Phandeeyar, partnered to host "TechCamp Yangon: Tech for Transparency in the New Myanmar." Dramatically increased mobile connectivity and the seating of a democratically elected new government in Myanmar presented new opportunities for civil society to leverage technology for social advocacy and citizen engagement. TechCamp Yangon, held March 8–9, 2016, was designed to help local civil society organizations increase civic participation and transparency in this post-election period through the application of cutting-edge technologies, open data analysis, and digital outreach strategies.
The two-day interactive workshop introduced key civil society groups to a range of technology tools they could use to increase the impact of their work and enabled them to make connections with local and international technology trainers who could assist them in their efforts. After the workshop, participants had the option to apply for funding to launch TechCamp-inspired solutions aimed at connecting the people of Myanmar with their government officials and increasing accountability and transparency in the country.
Winners of this grant competition reconvened in August 2016 at an event hosted by Phandeeyar to share outcomes from their projects.  This provided TechCamp Yangon alumni the opportunity to showcase their innovations and solidify networks created as a result of the TechCamp. It also gave these organizations a platform to explore new ideas and potential partnerships with a wider audience of organizations and individuals interested in supporting civic tech initiatives in Myanmar. Over 40 participants, including local technologists, media, and civil society leaders, as well as representatives of donor organizations, attended the event.
The grant-winning organizations and projects showcased at the capstone event include:
Myanma Fifth Estate (civic tech startup): Built and launched Open Hluttaw, a web platform that promotes political accountability among citizens and government by providing an open database of information on the country's 440 national parliamentarians. A "Facebook Your MP" Facebook campaign run by the Open Hluttaw Facebook page encourages users to engage with the website, and directly engage with their representatives on Facebook, many of whom had not been using social media.  Open Hluttaw will be adding data from regional parliaments and working with issue-based advocacy groups in the months ahead.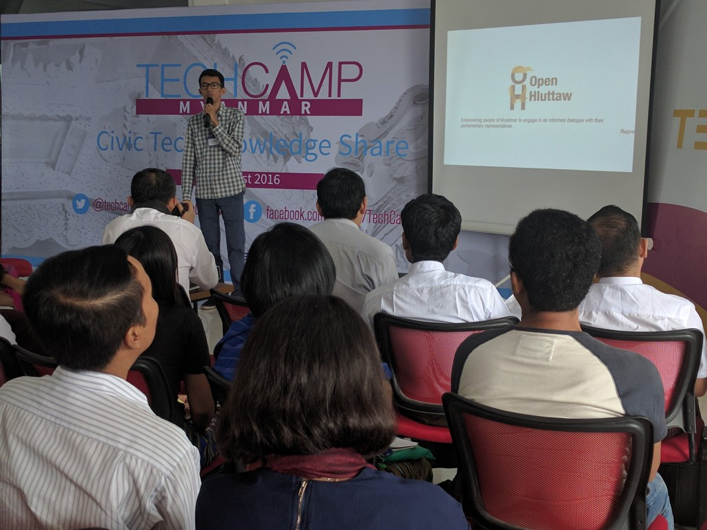 iSchool Myanmar (technology and accountability organization): Launched "Inclusive Technology for Persons with Disabilities," a campaign for inclusive technology that, by August 2016 alone, had reached more than 50,000 Myanmar residents. Through this initiative, iSchool Myanmar worked to increase the digital literacy of disability rights groups in the country, and lay a foundation for future advocacy campaigns on the topic. Campaign data demonstrates the potential for using technology to improve the civic participation of persons with disabilities, approximately up to 2.3 million Myanmar residents.
Rainbow Organization (human rights organization): Organized 10 grassroots organizations from the Mandalay region to use social media advocacy tools through a first-ever local TechCamp held in upper Myanmar. The three-day workshop addressed topics such as social video and podcast production, strategic communication and getting out your message, and how to use technologies for encouraging equality and human rights on social media. Drawing on digital skills learned at the local TechCamp, participating organizations used Facebook and smartphone applications to drive support for relief efforts related to flooding that occurred in Mandalay in July 2016.
TechCamp Yangon and the project outcomes on display at the August capstone event highlighted the positive role that technology, innovation, and entrepreneurship can play in strengthening transparency and creating inclusive economic growth in Myanmar. The Department of State and U.S. Embassy in Rangoon will continue to engage Myanma Fifth Estate, iSchool Myanmar, Rainbow Organization, and other alumni from last year's TechCamp to support their projects and find ways for future collaboration.