Burma is a country unlike another. Not just for its ancient pagodas and spicy cuisine, but the political and technological transformation happening in Burma today is unlike any in recent history. With two out of three Burmese citizens under 35, a huge, passionate generation of digital natives is bringing new ideas and capacity to bear on the country's challenges.
November 8, 2015 was a historic day in the country. Millions of people, many for the first time in their lives, cast their vote in a peaceful election. For Burma's activists and civil society leaders, the elections are more than the culmination of decades of the people's courage and struggle; they are the beginning of a dialogue between a representative government and the people. The ability to connect, both with fellow citizens and with a new government that finally may represent them, is quickly empowering innovators and civic leaders from previously underserved populations.
The United States is committed to supporting the people of Burma in their pursuit of democracy. As part of that commitment, the U.S. Department of State, the U.S. Embassy in Rangoon and local innovation incubator Phandeeyar partnered to host TechCamp Yangon: Tech for Transparency in the New Myanmar on March 8–9, 2016.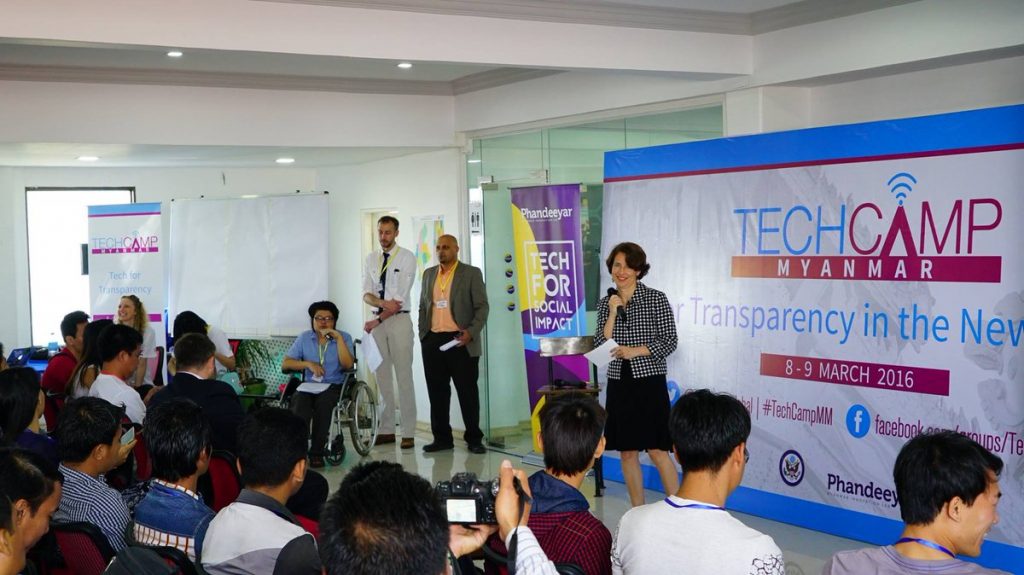 TechCamp Yangon: Tech for Transparency in the New Myanmar was two-day interactive event designed to help civil society organizations increase civil participation by applying cutting-edge tech tools, open data analysis and 21st century strategies for outreach and engagement.
Technology experts and trainers from eight different countries were paired with local technologists to train participants on data visualization, conducting polls digitally, interactive mapping, digital outreach strategies, combating online hate speech and low-cost DIY film making. The TechCamp trainers, leaders in using tech for social good, are active in their fields and hail from organizations such as change.org, The Carter Center, BBC, the American Bar Association and many others.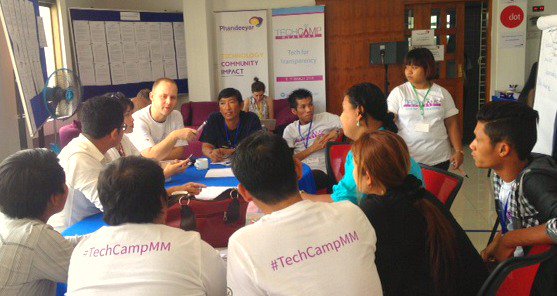 While TechCamp trainers were crucial to the success of TechCamp Yangon, the participants were the stars of the show. 68 participants from 30 of Burma's top civil society and media organizations attended the event, learning to use tech to solve challenges involving human rights, land rights, child labor, civic participation, and LGBTI groups. They came from ten of Burma's 14 states and regions. The participants were representative their country's population; young, diverse, driven, eager to learn and optimistic about the future.
They were also ready to get to work. Over the two days, the participants worked with trainers to plan and develop mobile messaging campaigns, created community canvassing and poll drives, direct advocacy films and brainstorm strategies to empower their online communities to take real-world action.
Like so much in Burma today, TechCamp is really only the start of something new. Civil society organizations that came to TechCamp all had the option to apply for funding to launch projects aimed at connecting the people of Burma with their government. Lots of promising project concepts were born at TechCamp and we are excited to follow their progress in the future. We hope you will too.
Here are examples of projects created during TechCamp that participants will be working to turn into reality in the coming months:
Political Accountability through Direct Engagement
Social media democratizes information. Myanmar Fifth Estate, a local civil society organization, aims to deploy Facebook for the democratization of political access. The group is dedicated to the mission of holding government accountable and developing two-way political dialogue. They plan partner with the Open Myanmar Initiative in order to build and maintain an independent web-based hub to connect citizens with information and to open communication channels with their parliament representatives.
Inclusive Technology for Persons with Disabilities
Burma's new connectivity presents a huge opportunity to the 2.3 million people with disabilities who live there. Bypassing desktop computers for a mostly mobile data environment gives people with disabilities, half of whom never had the chance to attend formal schooling, the chance to access education, employment and other resources for the first time. The iSchool Myanmar organization has a plan to train disability rights groups to become educators and advocates for others, bringing tech skills to their communities.
Constituency Survey
Understanding your constituents, their needs, and opinions is a crucial step for an emerging democracy. In Burma, where accurate polling is rarely conducted, this presents both challenges and opportunities. The Seagull, an emerging human rights organization, will use methods and tools from TechCamp to conduct and analyze a survey of citizens of Mandalay's Chanmyatharsi township. Expertise gained from TechCamp training will help The Seagull's pollsters hit the ground running. They'll take the social and economic data and share it with Parliament and other civil society organizations who can use it to design programs and policies matching the needs of the people.