Throughout his lifetime, Exan Sharief has earned a slew of impressive titles: attorney, professor, non-profit director and activist– just to name a few. But in 2017, the siege of Marawi by ISIL militants threatened Sharief's life and the lives of those closest to him. The tragic five-month-long armed conflict killed hundreds and displaced an estimated 200,000 people from their homes. 
Sharief and his community suffered from the lack of reliable information surrounding the Marawi conflict. Rumors falsely reporting the resurgence of dangerous militant groups caused confusion and panic, particularly among displaced families. As misinformation continued to send ripples of fear through vulnerable communities, Sharief knew he wanted to help. 
In August of that same year, Sharief attended his first Techcamp in Jakarta, Indonesia. He traveled to the workshop hoping to learn how technology could aid his advocacy work with internally displaced communities such as his own.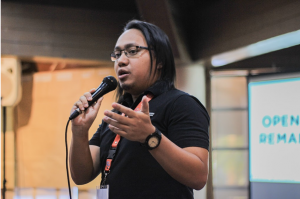 The Techcamp trainers discussed global and regional trends surrounding the incorporation of technology into advocacy campaigns– lessons Sharief wasted no time in implementing back home. 
"As soon as I returned to my community, I came to realize how critical it was to engage the citizens and the internally displaced persons, which I also am, to be involved in the information flow that shapes the decision of duty bearers and humanitarian responders," Sharief said.  
Immediately after the Tech Camp, Sharief sat down with co-alumni from the Philippines and started to pitch the idea of drafting a project for the IDPs from Marawi. 
"When it was announced that there was a funding competition, it gave our team a confidence boost that we can possibly realize our project," he said. 
Soon after Sharief's time at Techcamp Jakarta, Project iPat (Interactive Citizen Patrollers) was born. The platform aimed to actively engage members of displaced families to create a much-needed information flow about the crisis. 
 "It focused on gathering relevant responses, sentiments, grievances and news directly from the people," Sharief explained. "Project iPat put them both online and on local radio stations to spread across Marawi and neighboring municipalities."
Sharief hoped that Project iPat would help empower displaced families, as well as help the government and humanitarian responders make informed decisions.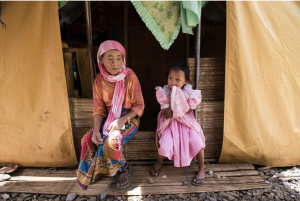 "Information is crucial during times of displacement and disasters, may they be man-made or natural," he said.  
Sharief built the concept of an interactive citizen patrol by emphasizing the cultural values of the Maranao people through the platform's reliance on community togetherness. He then designed the program itself by utilizing the technical skills taught at Techcamp Jakarta. 
Sharief shared that the most important lessons he learned at Techcamp were "the project pitching, world café approach, storytelling and overall advocacy campaign building."  He also learned how to encourage his community's youth to engage with technology from trainers like Arief Aziz and Kate Hoof. 
Three years after Techcamp Jakarta, Sharief has used the experiences and contacts gained during the development of Project iPat to help grow his professional career. 
He emphasized that The Young Southeast Asian Leaders Initiative (YSEALI) was another great opportunity for growth that came about after TechCamp Jakarta. He was selected as the YSEALI Spring Professional Fellow on Economic Empowerment and received a fellowship at Epic Ohana in Honolulu, Hawaii. In 2018, Sharief won "Peacebuilder of the Year" as part of the Young SDG Champion Awards.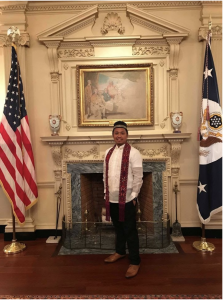 "YSEALI did not only open new doors for professional growth but also more learning and opportunities to help, network with fellow advocates of positive change and to start turning visions into actions," Sharief told American Corner Marawi as part of the social media campaign "The Changemakers: It Starts With Me." 
Overall, Sharief's favorite part of Techcamp Jakarta was the opportunity to network with fellow Techcamp participants and staff.  
"They are not just added friends but also added critical thinkers for your projects and advocacies," Sharief said. "They are potential collaborators that can share better ideas to enhance your advocacy campaign. They eventually become your family and support group."
Currently, Sharief works as the Equal Access International Philippines Country Director. Bringing his story full circle, EAI Philippines is now able to host Techcamps themselves with U.S. funding. 
Today, Sharief can be found sharing his own Techcamp experience to promote peace, awareness and media literacy within Philippine communities, regardless of differences in ethnicity, religion and culture. 
Isn't that amazing," Sharief reflected, "to apply my Techcamp Jakarta experience and have the opportunity to shape the Techcamp experience for the Philippine community?