TechCamp Cyprus alumna Diana Hodulina turned a small grant from the U.S. government into a digital media literacy campaign in her native Latvia.
Hodulina was invited by the U.S. Embassy in Latvia to be one of 58 participants at TechCamp Cyprus in December 2018. The TechCamp brought together journalists and civil society leaders from eight countries to work with mentors and experts on how to promote digital citizenship in the disinformation age.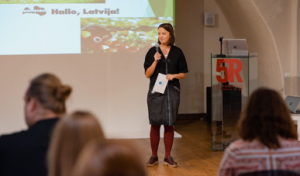 "My favorite parts of TechCamp Cyprus were speed-geeking and networking," Hodulina said. "I learned a lot about media literacy initiatives in different countries….Bringing together actors from a variety of disciplines helps to create a bridge to enhance expertise and disseminate best practices."
Hodulina's background in journalism laid the foundation for her interest in media literacy. She previously worked as a reporter and foreign correspondent for Latvian Television (LTV) after earning a degree in Communication, Mass Media, and Diplomacy from the University of Latvia. Now, Hodulina is a project manager at the Baltic Center for Media Excellence, a hub that provides training to local journalists, monitors regional media trends and conducts media research.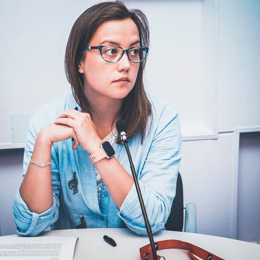 At the TechCamp, Hodulina worked with mentor Mimi Van Dun of Mediawijzer.net. She said that after learning about Van Dun's own work to promote digital literacy and internet safety, she was inspired to develop her own audiovisual content to bring engaging media literacy educational materials to Latvia.
"The core project idea was to encourage young audiences to become more media savvy, both in terms of consumption and production, by providing them access to [information] about media literacy," Hodulina said. "TechCamp helped me better understand methods for raising awareness and empowering youth to make healthier decisions and create healthier media environments."
Hodulina received a small grant to launch her project and used the funds to produce six educational videos about real cases of disinformation and fake news. The videos used an 'infotainment' approach in which popular bloggers and journalists taught people how to evaluate news sources for accuracy and fact-check dubious claims. Three of the videos were in Latvian and three were in Russian so that all Latvian citizens could access the content. The videos were published on LTV and Latvian Radio and shared via social media in September 2019. The content was also incorporated into a well-known multimedia literacy project in Latvia called Pilna Doma, which translates to "Full Thought."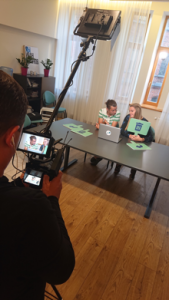 Hodulina said partnering with media outlets helped her reach a wide audience and she hopes people will keep viewing the videos on the Pilna Doma website for years to come. She plans to continue her work with the Baltic Center for Media Excellence to spread awareness about the importance of media literacy.
"I do believe that critical thinking and digital literacy are essential skills in order to thrive in the 21st century," she said. "Nowadays, each of us can become a media literacy ambassador and my aim is to provide the necessary equipment and skills to pass on the knowledge to broader communities. It is time to pay attention to your media diet!"