Milan Petrović leveraged his experience at TechCamp Cyprus to develop a media literacy curriculum to take back to his native country of Serbia. He also built a network that led to his participation in a U.S. exchange program, Fulbright.
In December 2018, TechCamp Cyprus brought together 58 participants from Cyprus, Estonia, Georgia, Greece, Latvia, Moldova, Serbia and Turkey under the theme of digital citizenship in the disinformation age. These civil society leaders, entrepreneurs and journalists worked with mentors and experts for three days to learn about tools and strategies to promote media literacy and fight the spread of disinformation. 
While he was at the TechCamp, Petrović worked with trainers like Mimi van Dun and Maciek Slomczynski who inspired him to improve media literacy in his own country. After the TechCamp, he returned to Serbia with the idea of bringing media literacy education to students in his local community. He said it is important to teach kids the skills to spot disinformation as they are spending more time on the internet at a younger age. 
"The basic idea is that in order to fight fake news and disinformation, we all need to familiarize ourselves with the process of creating the news, as well as become trained to recognize different kinds of misinformation, fake news and propaganda," Petrović said. 
Staying engaged after TechCamp gave Milan even more opportunities to build on his connections and continue his learning. In fall 2019, Petrović received a Fulbright scholarship to study media literacy at Kent State University in Ohio. He documented his experiences on his YouTube channel, including his observations about the American education system and visits to local media organizations. 
"One of the key aspects I learned about MIL in the US is that I need to get many different teachers involved, not only language and MIL teachers," he said. "That made me rethink the entire curriculum and now I am making a special addition for teachers who are doing science and other subjects so they can also include MIL topics in their curriculum."
Back home in Serbia, Petrović's nonprofit organization, Teach Me, is developing a journalism and media literacy curriculum for middle and high school students. His goal is for the Serbian Ministry of Education to adopt the curriculum at a national level.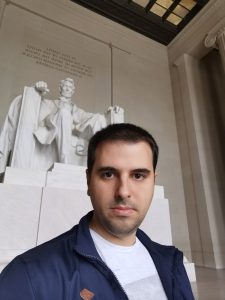 "It was only this year that the Ministry of Education in Serbia started making media literacy one of the extracurricular subjects available in the first year of middle school," Petrović said. "The problem is that the curriculum is quite basic, almost completely deprived of technological advancements and thus all together useless. We need to make a better curriculum that both motivates and educates students."
Teach Me engages students through classes at its learning hub in Niš, Serbia. Students learn journalistic skills such as interviewing, writing, video production and photography. They also discuss where to find credible news sources and how to spot articles that may have misleading information. 
"We expect that this curriculum will help them make informed decisions about what kind of media they want to consume and become more proactive citizens in their own local community," Petrović said.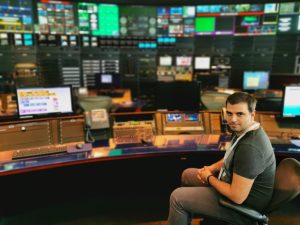 Teach Me is also developing online workshops for teachers on how to educate their students about media and information literacy, or MIL. Petrović hopes to make the program self-sustaining by having teachers pay for a certification in teaching media literacy curriculum. He plans to eventually expand to live events with seminars for teacher training. 
"Our idea is to make this curriculum web-based and easily accessible to everyone, but also deliver it in 20-hour workshops with practical advice and a hands-on, innovative approach," he said. 
Petrović said he is grateful for the opportunities he's had since TechCamp and he is eager to return the favor for future TechCamp participants. 
"Fulbright helped me grow a lot," Petrović said. "I learned so much about MIL and innovative tech in education. I hope to apply it to the region as soon as possible and in every chance I get. Who knows, perhaps I can become a TechCamp mentor one day?"