Building Bridges
The U.S. Consulate General in Hyderabad and the State Department's Bureau of International Information Programs (IIP) partnered with the Confederation of Voluntary Associations to host a TechCamp in Hyderabad, India in November 2016. Throughout the three-day technology workshop civil society leaders, journalists, social media experts, religious leaders, and tech experts convened to build out long-term projects centered on promoting positive alternative narratives and technology strategies to counter violent extremism.
Young leaders from South and Southeast Asia apply digital skills to tackle challenges at #TechCampHyderabad. @USAndHyderabad @COVAnetwork pic.twitter.com/Tv7NL1CgDb

— TechCamp (@TechCampGlobal) November 29, 2016
Participants from India, Bangladesh, Indonesia, the Maldives, Philippines, Singapore, and Sri Lanka were nominated and selected by the U.S. embassies in each of their countries. Participants worked with specialized trainers recruited by IIP from organizations like Google, the Wilson Center, 270 Strategies, the BBC, and the NoHateSpeech Movement. Together, they tackled topics such as building successful online and offline campaigns, digital storytelling, data visualization, and using online course-learning tools to promote peace and understanding in their work and local communities.
Ayeshea Perera of BBC discusses tools for identifying real news from fake news at #TechCampHyderabad pic.twitter.com/SEts4cOvne

— TechCamp (@TechCampGlobal) November 28, 2016
Developing Projects
As the TechCamp progressed, participants identified, described, and confronted key challenges in order to then build solutions and strategies to counter violent extremism in the digital age. One notable project from TechCamp Hyderabad is the CheckMateHate campaign. Participants from Bangladesh, India, Philippines, and Sri Lanka worked together with trainers Ayeshea Perera of BBC and Linda Roth from The Wilson Center to launch a campaign countering online hate and misinformation while featuring inspiring stories of individuals espousing values of coexistence and multiculturalism.

Other key projects and ideas from the TechCamp were strategies to empower women in the fight against radicalization through direct messaging and podcasts; community building via e-learning tools (with a special focus on K-12 education in rural India); and the creation of a platform to empower and engage university dropouts with positive messaging and educational resources. "I always wanted to launch my ideas to tackle negative issues," said Newaz Hossain, a participant from Bangladesh working on that education platform. "[I am] glad to receive the necessary tools to make the idea turn into reality."
"TechCamp gave partners the opportunity to learn new concepts, and gave trainers the opportunity to find common elements which have worked for them in their journey and share it with others," said Ammar Kanchwala, a trainer at TechCamp Hyderabad. "If I were to share a best moment during TechCamp Hyderabad then it would be during the final presentations, when I saw the ideas that had just been on paper in the morning transformed into prototypes and concrete strategies, which was just the result of two day training session. This itself speaks a lot about the power and potential of this platform."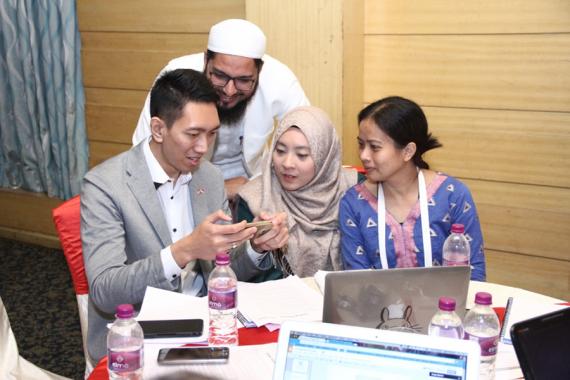 Looking Forward to the Future
Participants left TechCamp Hyderabad with new digital skills, as well as a network of partners across South and Southeast Asia — but the work does not stop there. TechCamp Hyderabad, like every IIP-led TechCamp, includes a multifaceted follow-on effort to help expand this existing network of positive change-makers with an emphasis on cross-regional interaction. In early 2017, the State Department, in partnership with the Confederation of Voluntary Associations, offered program alumni additional funding and training opportunities to help them expand the digital campaigns, apps, and initiatives generated through TechCamp Hyderabad. This continuing partnership will also support TechCamp alumni's ambitions to carry out their own local TechCamps, to connect even more innovative ideas and positive narratives, like those they experienced in Hyderabad, to their communities. Efforts like TechCamp are critical to connecting the next generation to the training and technological tools they need to work to solve today's complex global challenges.