Trainer Bios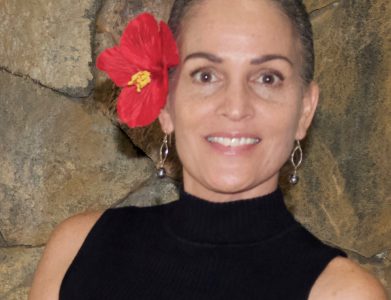 Malia Kapuaonālani Evans
O'ahu Education and Outreach Coordinator National Marine Sanctuary Foundation
Malia Kapuaonālani Evans was born in Hilo, Hawaiʻi and raised both in Hilo and Kailua, Oʻahu. For over 2 decades, she has advocated for the protection and preservation of tangible and intangible heritage in Hawaiʻi nei. Malia applies Native Hawaiian knowledge systems and values in conjunction with western methodologies to enhance research, education and outreach goals and build collaborative partnerships with those caring for the environment and community histories. Malia has a M.A. in Applied Archaeology and graduate certificate in Historic Preservation. As a NOAA affiliate employed by the National Marine Sanctuary Foundation, she works as the Oʻahu Education and Outreach Coordinator in support of Papahānaumokuākea Marine National Monument and UNESCO Mixed World Heritage Site.
---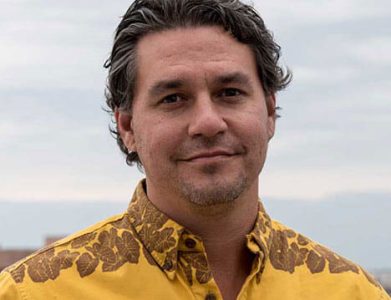 Kālewa Correa
Curator of Hawai'i and the Pacific Smithsonian Asian Pacific American Center
Kālewa Correa serves as the Curator of Hawai'i and the Pacific with the Smithsonian Institution's Asian Pacific American Center. He is a graduate of the University of Hawai'i at Mānoa Kamakakū'okalani Center for Hawaiian Studies, focusing on traditional Hawaiian society and politics. He holds advanced degrees in the Information Science and Education Technology disciplines. His primary program as Hawai'i and the Pacific curator is on the Digital Storytelling Initiative entitled Our Stories. The Our Stories initiative is in place to present and elevate the voices of Pacific Islanders on the international stage through the mixed media formats of film, podcasting, composition, and mixed reality (MR).
---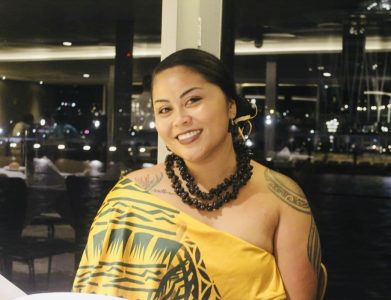 Sabrina Suluai-Mahuka
Educational Consultant Suluai-Mahuka Consulting
Sabrina Suluai-Mahuka has served as a Secondary Education Teacher for the past eleven years, teaching English to English Language Learners from all over the island and averaged about 100 students per academic year. In addition, Sabrina also acts as an advisor and lecturer for the University of Hawaii at Manoa PACMED program for the Pacific Region. In her role as PACMED instructor Sabrina facilitates tertiary courses with UH Manoa graduate students in American Samoa, Hawaii, Chuuk, and the Republic of Marshall Islands. To further demonstrate her leadership, Sabrina earned the title of Nobel Educator of Distinction with the National Society of High School Scholars and was bestowed membership with four university honor societies: Phi Lambda Theta Honor Society, Honor Society Foundation, Kappa Delta Pi International Honor Society and the Golden Key International Honor Society. Sabrina was a TEDx Speaker at the inaugural Pago Pago event where she emphasized mentorship for our youth through her published talk "Be That Person". Simultaneously, Sabrina is the founder for the community service project, Finafinau, which was founded in 2017 and focuses on youth advocacy for the environment. In this capacity, she works with over 50 youth each year to coordinate coast clean ups, tree planting, and school outreach visits, with the hope to promote environmental conservation and resilience. In 2022, Finafinau earned its nonprofit status and now has various student chapters in three districts of American Samoa. In March 2020, Sabrina was the first American Samoan to win the Presidential Innovation Award for Environmental Educators from the US Environmental Protection Agency for all of Region 9. Sabrina was also named the 2021 Territorial Teacher of the Year for American Samoa and in September 2022, Sabrina was the first Pacific Islander to win an EE 30 Under 30 award for the North American Association for Environmental Education. Sabrina also represented American Samoa at the 2019 Young Pacific Leaders program, became a winner for the 2019 YPL Small Grants Program, and selected for the YPL Civic Engagement Program as a workshop participant and also a keynote speaker on her "Journey to Community Leadership."
Sabrina is a graduate from the American Samoa Community College in 2011 with an Associate's degree in Liberal Arts. From the University of Hawaii at Manoa, Sabrina received a Bachelor of Education degree in Elementary Education in 2014 and also earned a Master of Education in Curriculum Studies in 2016. Within the same university, Sabrina is currently pursuing her PhD in Learning Technology and Design pending graduation in December 2022.
---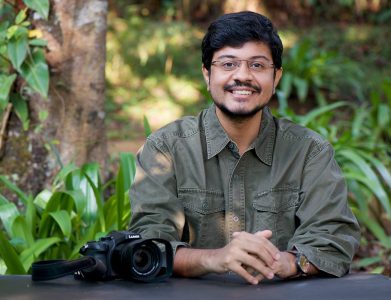 Ramnath Chandrashekar
Visual storyteller | Educator | Chief Operating Officer Youth Conservation Action Network
K. Ramnath Chandrasekhar is a Natural History Storyteller, Conservation Educator, and 2022 National Geographic Explorer from India. He uses multimedia storytelling and experience-based learning to encourage empathy and action among students and youth for our planet's natural heritage. Chandrasekhar's fascination with nature began at 13 when he explored scrub jungles around his hometown of Pudukkottai. This led to photography and filmmaking and, eventually, to conservation education. He was shortlisted for the inaugural Rolex Young Laureates Programme, recognized by the Tamil Nadu State Department, and awarded an international scholarship to pursue the Asia Pacific Leadership Program (APLP) Fellowship at the East-West Center, Honolulu, Hawaii. During the last 14 years, Chandrasekhar has been crisscrossing India capturing the wonders and woes of nature, from king cobras on the rainforest floor to disappearing frogs in the canopy, from the mass migration of amur falcons to melting glaciers in the Himalayas. At the same time, he has been convening outreach and education programs, teaching ecology and conservation to about 50,000 students in 250 schools across Tamil Nadu, India, using nature and conservation films. He has mentored 55 primary and middle school students to explore the environment and write and publish children's storybooks about the natural world around them. Chandrasekhar has co-authored a coffee table book named 'Ganga – More than a river' about the journey of the River Ganges from its source to sea. He has edited conservation documentaries such as The Race to Save the Amur Falcon, India's Disappearing Beaches, and Making Room for Nature. Fujifilm shortlisted him as one of the six photographers from India for their 'Fuji Super Six' exhibition, which allowed him to showcase his photographic work in major cities across India. Chandrasekhar envisions a world with a nature educator in every school and community. He is on the board of Trust for Environmental Education (TREE), a public charitable Trust founded in 1986 by Govind Swaminathan, one of the legal luminaries of India, Sriram Panchu, a senior advocate, and acclaimed wildlife filmmaker Shekar Dattatri. Chandrasekhar and his partner Rachita Sinha co-founded a volunteer-led non-profit initiative called Youth Conservation Action Network (YouCAN). Through TREE and YouCAN, they implement short-term and long-term educational programs for school students, youth, and teachers that inspires, empowers, and nurtures them to become environmentalists in their own right. They live in the mountain town of Coonoor, in the Nilgiris, India, along with their dog, Ripple.
---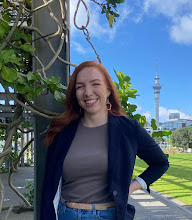 Erin Thomas
Policy and Research Coordinator International Center for Advocates Against Discrimination
Erin Thomas is the Policy and Research Coordinator at ICAAD (International Center for Advocates Against Discrimination). A skilled facilitator and researcher, Erin has worked on difficult human rights issues in the Pacific including gender-based violence, nuclear justice, and climate justice. Erin is an organizer at heart and thrives on bringing people together around advocacy efforts. She earned her B.A. in International Relations from American University in Washington D.C. and her M.A. in Development Studies at the University of Auckland.
---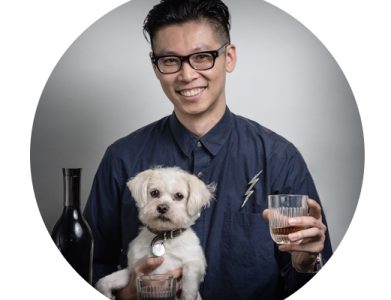 Raymond Chin
Chief Creative Officer Wunderman Thompson
Ray comes from a background of consultancy, martech and advertising. Having worked for the likes of Accenture, Publicis agencies and WPP agencies. In his current senior agency role at WPP's Wunderman Thompson China, he is tasked with modernizing the agency from its traditional offering, adding a layer of tech, data, commerce and customer experience into the agency's offering for clients. In his previous consultancy role at Accenture Interactive, he worked with C-suite level clients on digital marketing transformation agendas, exploring how brands can create end-to-end experiences driven by tech and data, leading to improved sales conversion. He led a Customer Experience practice of 70 people across the ASEAN region. He was also working with Droga5 to set up the APAC digital marketing arm of Accenture Interactive while working on global projects and pitches with them. Throughout his career, he has helped clients the likes of Nike, Unilever, LVMH, Starbucks and Estee Lauder succeed in China, He has also helped Chinese companies such as Huawei, Honor and Momo go global. He has won innovation and effectiveness awards, transformed an agency to a "Great Place To Work" and Campaign's Agency of the Year Best New Biz Team to boot. And was recognized for his efforts as one of Campaign Asia's 40 under 40 this year and its Digital A-list 50.
Ray is also a speaker and award jury member at SXSW, Cannes, Spikes Asia, New York Effectiveness Marketing Festival. He also guest lectures to students in HK Baptist University, HKPU and University of Gloucestershire and is on the board of SXSW's global start-ups panel.
---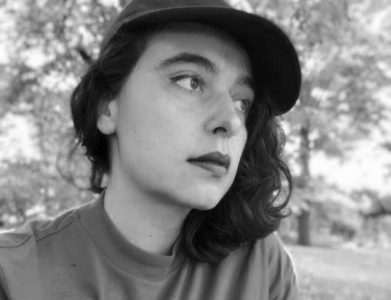 Erika Díaz Gómez
Senior Designer IDEO
With more than 15 of years of international design experience, my craft lies in the intersection of design research, facilitation and visual communication. I'm currently mastering the practice of service design and feel passionate about design fiction and futures (specially with a rural and community lens).
---