Trainer Bios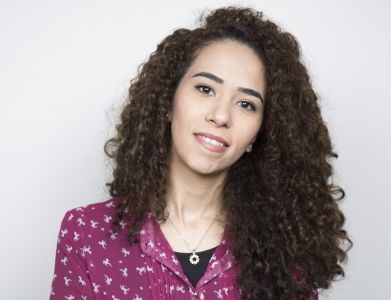 Razan Qraini
Senior Andriod Developer WebTeb
Razan is a Senior Android Developer at WebTeb and dedicated to continuously developing, implementing, and adopting new technologies to maximize development efficiency and produce innovative applications.
Since joining WebTeb in March 2017, she has been responsible for designing and building Android apps: WebTeb and TebBaby, collaborating with cross-functional teams to analyze, design, and ship new features and publishing applications in app stores to provide trusted medical and health information to Arabic readers wherever they are.
Prior to her current position, Razan was a Software Engineer at Experts Turnkey Solutions where she worked on developing mobile apps and software projects for clients in telecommunication field, utilities sector and private companies.
Razan is a TechWomen Fellow and was hosted at Twitter HQ as part of this program. She is also ArabWIC Palestine Chapter Leader & Events coordinator.
Razan holds a Bachelor's Degree in Computer Engineering from An-Najah National University in Nablus.
---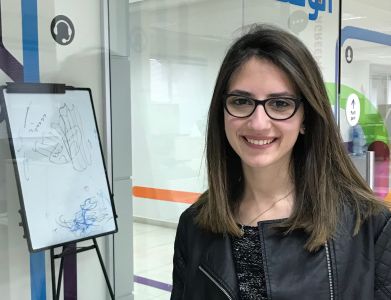 Leen Abu Baker
VP of Public Relations and Communications INJAZ Al-Arab Alumni Regional Board
Leen is a Technical Procurement Officer at Paltel Company. Her journey with Junior Achievement-INJAZ started in 2011 winning the best general manager prize of the Young Entrepreneurs Competition. She's the VP of Public Relations and Communications at INJAZ Al-Arab Alumni Regional Board. Leen holds a Bachelor's degree in Computer Engineering from An-Najah National University. Her Graduation project was based on her interest in both the augmented reality field and automobile technologies presenting a virtual car manual named Focus.
---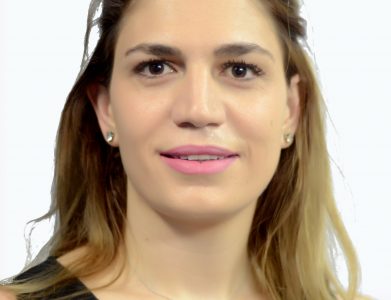 Riham Abu Aita
Consultant UNESCO Office in Palestine
Riham Abu Aita is a communication expert, with more than 10 years of experience in local and international organizations. She focuses in Humanitarian and human rights fields, and advocating for the right of freedom of expression. Currently, she is working with UNESCO's National Office in Palestine to create national mechanism for monitoring and reporting on Safety of Journalists and the issue of Impunity in Palestine.
---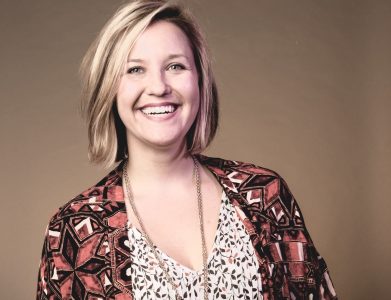 Linsay Deming
Manager of Digital Learning Hirshhorn Museum and Sculpture Garden
Linsay Deming is the manager of digital learning programs at the Hirshhorn Museum and Sculpture Garden in Washington. Linsay directs the education staff, facilitates advanced programming, and coordinates logistics for one of the Smithsonian Institution's signature after-school arts programs, ArtLab. She began her career in museum education in 2012 at ArtLab, specializing in connected learning in an informal environment with a focus on audio production, video production and performance arts. In 2016 and 2017, Linsay was awarded the local Commission on Arts and Humanities's Artist Fellowship for her contributions to Washington in arts education and interdisciplinary performance.
---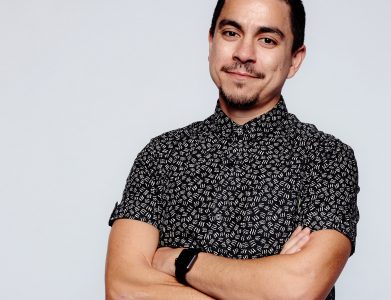 Sean Mulholland
Principal Designer, Media+Technology IDEO
Sean works at the intersection of brand, storytelling, and technology. Much of his work focuses on product design and strategy, where he researches and prototypes how emerging technologies can be leveraged in ways that are human-centered.
Sean has worked at three startups (including one of his own) and three agencies. In a startup he positioned an Internet of Things product to successfully crowdfund via Indiegogo and built one of the first (legal) means of marketing software via peer-to-peer networks. For the agencies he's launched new brands, relaunched classic brands, and helped design a movement for a national nonprofit that captured international attention.
Sean writes code by hand but went to art school and holds a bachelor of fine arts degree.
Fun fact: one time he quit his job and moved to a farm in Oregon.
---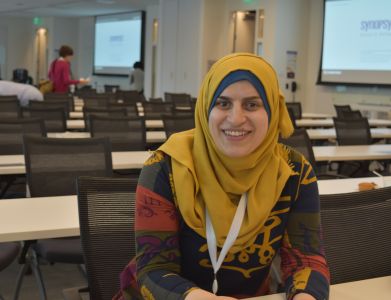 Ruba Awayes
Co-Founder BePositive Initiative
Ruba Awayes has been a computer lab instructor at An-Najah National University for more than nine years and has experience in the e-learning industry. She is a co-founder of the BePositive Initiative that seeks to increase blood donations through social media engagement. Ruba is a volunteer at Palestine Tech Meetups, a youth initiative that aims to create a voluntary and independent tech community. She is the camp director for the yearly summer camp in her village. She was assigned to be the university ambassador in the ArabWIC Palestine chapter, where she helps launch events on campuses and serves as the website coordinator. Recently she was selected as a TechWomen emerging leader in the United States, which included a four-week internship at Mozilla Corporation.
---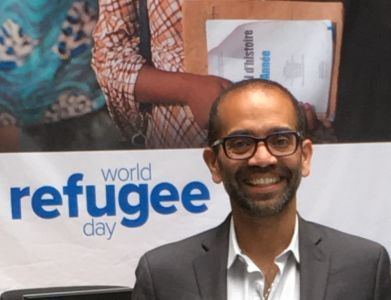 Ashish Gadnis
Founder / CEO BanQu
Ashish Gadnis is the Founder / CEO of the award winning blockchain application BanQu. BanQu is the first ever blockchain-based Supply Chain & Economic Identity platform (patent pending) and network that creates transparency, traceability and sustainability for farmers (especially women) living in extreme poverty and refugees across the globe. He is also currently, a senior strategic advisor to multiple global organizations and the United Nations on the Sustainable Development Goals 2030 agenda.
 
Prior to his current engagements, Mr. Gadnis was the founder and CEO of multiple technology startups, the last one of which was acquired by a $1.5 billion global consulting firm in 2012.
 
Over the past 25 years Ashish has been recognized for his private / public sector contributions with awards such as – MIT Innovate for Refugees (Syrian refugees) award, Young Global Leader (World Economic Forum), Minority Business Leader (Twin Cities Business), 40 under 40 (Business Journal), Change-Makers Innovator Award (Coding Schools in Refugee Camps in East Africa) and Battery Ventures Innovation Award – Democratic Republic of Congo (for Asili: a mobile / cloud-based business focused on reducing infant child mortality, improving maternal health and increasing livelihood in conflict zones).
 
Ashish has a Bachelor's degree in Systems Engineering from Bombay University, MBA in Finance and Marketing from the Carlson School and Executive Education in Global Leadership and Public Policy from Harvard Kennedy School.
---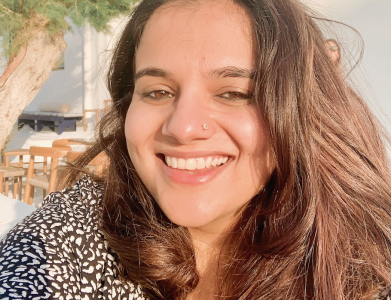 Dr. Suchi Gaur
Director- Global Engagement and Impact World YWCA, Geneva World YWCA
Dr. Suchi Gaur has more than a decade of experience in the social sector, working at the confluence of gender, health and technology in the non-profit, startup, and research sectors. She aims to bridge the gaps of access and delivery, advocating for rights-based policies. Currently, she is working with the World YWCA as the Director for Global Engagement and Impact at Geneva, Switzerland where she leads the mission impact work of the World YWCA through programmes, communications, engagement and advocacy. She has been leading key tools of World YWCA including the Safe Spaces Guide, the Feminist Consultation Methodology and the RiseUp! Young Women Leadership Guide. She leads multi-million dollar grants with different variety of donors including the Government of Australia, the World Health Organisation, and Christian Aid, to name a few.
She is currently a member of a number of expert advisory groups including the UNESCO-UNFPA Comprehensive Sexuality Education Partnership Forum; World Health Organisation's Expert Review Group on UHC-LSP; Member of the International gender community of practice of ACT Alliance; Global Advisor at World Pulse and Advisor for Apprentice Hub 2022 at Girl Up India. Suchi has been recently recognized as the 50 Gender Mentors on Gender Equality for Youth Leaders by NGO-CSW Forum.
Previously, she worked as the Communication Specialist for Project HOPE, spearheading their communications work in the South-East Asia region. She has also been a volunteer trainer with the US Department of State's TechCamp Initiative. Over the years, she has developed expertise in behavior change in public health communication and gender. A gold medalist for her Ph.D. work in Development Communication from Lady Irwin College, University of Delhi, she studied the tool of community radio and its linkages to policy, gender and participation in India, Nepal, Sri Lanka, and United States. She was awarded the prestigious Fulbright-Nehru Doctoral Research Grant in 2012-13 to study community communications at the New York University of United States. She has also worked as the Parliamentary Research Associate for a Member of Parliament in India where she guided his work for women & child development, health, and education along with a special focus on SGBV in his constituency. She has experience of working on polio eradication in India with UNICEF.
---