Trainer Bios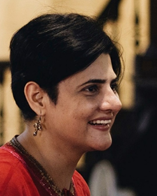 Supriya Singh
Indian Youth Climate Network
Supriya Singh is a youth leader heading the Indian Youth Climate Network, where she has conceptualized and implemented projects on sustainability, resource governance, climate change, and policy. With more than 14 years of research, advocacy, writing and project implementation experience, Supriya hopes to find solutions to questions like "How can we harness the potential of villages/institutions/cities for common good under a climate change scenario?" Supriya's love of travel and the natural world defines her work and has taken her to many parts of the country. She is currently working on a PhD in political ecology of water at Delhi University.
---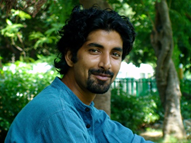 Vimlendu Jha
Swechha (India)
Vimlendu Jha is a dynamic youth leader from India who currently heads Swechha, a Delhi-based youth and environment organization. Since founding the organization in 2000, Vimlendu has successfully turned Swechha into one of India's leading youth-run and youth-focused NGOs. Engaged in issues of active citizenship and volunteering, Swechha is widely recognized as one of the country's most influential organizations on youth matters. He has also worked closely with the Government of India through its Planning Commission arm, including the local government of New Delhi. His accomplishments include being profiled as one of the top 25 youth leaders of the world by reputed organizations like International Youth Foundation, India Today and Outlook.  Vimlendu was selected as one of 6 change makers worldwide by CNN International to be part of their Be the Change program. He has also anchored the International Year of Volunteers 2001 initiative in India through UNV, heading the Volunteer Promotion Unit in New Delhi. His international experience includes association with Civicus World Assembly, British Council, IVLP (Dept of State, USA), UNV, UNDP, and was invited to speak at the UN General Assembly on issues of the Youth in global south. He has been nominated as Global Economic Fellow for the year 2012.
---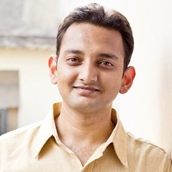 Rohit Singh
GramVaani (India)
Having left his job in the corporate sector, Rohit has been working in the development sector for over a decade. A Certified CSR Assessor by URS Worldwide (USA), Rohit has worked in NGOs, funding agencies and social enterprises. His role has been mostly around managing large scale development and disaster management programs, fostering relationships between the grassroots NGOs, communities, local administration and policy makers. Over the last couple of years, Rohit has been working with the Technology Development, Content Innovation and Community Mobilization teams of GramVaani. This has resulted in the development of the most innovative and user-friendly social media platforms for a diverse set of Gram Vaani's partners, enabling first generation mobile users living in remote media-dark regions to access information, share their stories and also register their feedback. Rohit has an MBA in Social entrepreneurship from NMIMS University, and has an MPhil degree in social work from Jodhpur National University.
---

Anjan Awasthi
InMobile (ex-Facebook) (India)
Anjan works with India's NGOs, industry associations, and government agencies to help them develop strategies that leverage  Facebook's potential. He is an alumni of both Facebook and LinkedIn and has worked with developers and users as part of their Platform and User Operations teams during his tenure.
---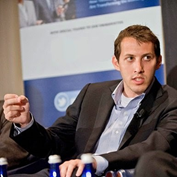 Eric Tyler
Adjunct Research Fellow New America Foundation
Eric's work focuses on the intersection of technology and globalization. Eric's research with the New America Foundation on mobile utilization for economic empowerment has spanned four continents. His writings have been published in The Guardian, The Wall Street Journal, CNN, among other outlets. As an entrepreneur, Eric co-founded and is the CEO of the social enterprise Globality, which supports high-impact entrepreneurs across more than 100 countries, and currently advises the World Bank CGAP on mobile and digital finance issues.
---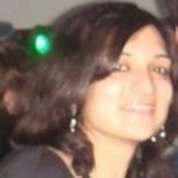 Kimaya Dixit
Senior Associate Hattaway Communications
Expert in strategy and content development for digital communications, integrated marketing and advocacy campaigns, Kimaya has managed campaigns for nonprofits, government agencies, trade associations and businesses. Prior to joining the Hattaway team, Kimaya worked with Ketchum Public Relations, where she served federal agencies, such as the U.S. Department of Health and Human Services and Environmental Protection Agency, and major brands such as the National Football League, Pfizer, FedEx and Hertz. Kimaya honed her skills in advocacy and marketing as communications director for the Men's Health Network, a national nonprofit that promotes the health of men and boys through public education and advocacy. Kimaya graduated from the University of Pune in India with a bachelor's degree in Economics. In her free time, she enjoys traveling, reading, kayaking and spending time with friends and family.
---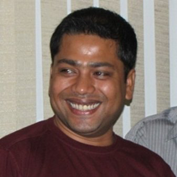 Ritesh Datta
Senior Program Manager Population Foundation
Ritesh is a result-oriented, multilingual, development professional with 10 years of extensive and diverse work experience in program design and delivery across themes like child rights, health, disaster management, skills development and livelihoods, ICT and behavior change communication among others. Ritesh brings in an experiential understanding of development programming, and has contributed to organizational and programmatic strategy development and implementation of non-profits and social ventures. He has written budgets and proposals and managed donors, facilitated strategic and programmatic partnerships and tie-ups with the government, corporate, associations and NGOs, and represented organizations in various platforms.
---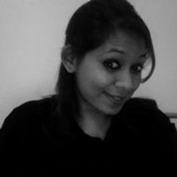 Dr. Namita Singh
Senior Program Manager Digital Green
Namita is a scholar and development professional, with 8 years of extensive experience in using participatory video for social development. She has worked with some of the leading organizations using participatory video for advocacy. She is currently working with Digital Green as the Training Coordinator. At TechCamp, Namita will be speaking about communities producing their own videos on issues that matter to them and using those videos for mobilization and advocacy purposes.
---
Thomas Bowman
Associate Director Council on Foreign Relations (CFR)
Thomas Bowman has extensive experience using digital storytelling, social media, and strategic communications to engage and inform government officials, academics, and others in order to effectively impact public policy and drive social change.
From 2008-2016 he managed the diplomatic program and executive branch initiative for the Council on Foreign Relations (CFR), where he promoted a digital interactive portfolio of infographics on a range of issues including climate change, government transparency, nuclear security, economic development, and global health. These data-driven tools broadened CFR's reach by bringing new stakeholders into the conversation, which enhanced policy debates and furthered the mission of the organization. Specific tools including Crisis Guides, Global Conflict Trackers, and Scorecards helped to explain foreign policy, national security, and international financial issues. Prior to that, he served in the White House as an assistant staff secretary. From 2005-2006 Thomas worked as a legislative analyst for the Office of Management and Budget. In 2013, he was named fellow for the International Career Advancement Program, sponsored by the University of Denver and the Aspen Institute.
Thomas graduated with a degree in political science from Duke University in 2001. He currently lives in Chicago, where he is Marketing Communications Manager for Fay Financial, a diversified mortgage services company.
---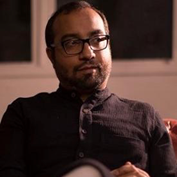 Mihir Sharma
Editor – Opinions, Business Standard
Mihir Sharma is the editor of the opinion pages at Business Standard newspaper. He is a Harvard educated economist and has written a book called Restart: The Last Chance for the Indian Economy in which he discusses the problems facing the Indian economy. Known for his wit, Mihir is extremely popular on Twitter (@mihirssharma) and uses the forum effectively to communicate what he thinks.
---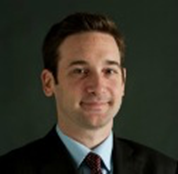 Judd Legum
Editor-In-Chief ThinkProgress.org
Previously, Judd was the Research Director for the Hillary Clinton for President campaign. He also worked at the Center for American Progress from 2003 to 2007, when he founded and edited ThinkProgress.org. Judd holds a J.D. from Georgetown University Law Center and a B.A. from Pomona College in Public Policy analysis. He is a member of the Maryland Bar and has practiced as an attorney, focusing on civil and criminal trial work. Judd has also appeared frequently on radio and television, including CNN, Fox News, MSNBC and CNBC.
---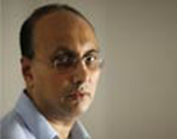 Ashok Malik
Senior Fellow, ORF
Ashok Malik has been a journalist for 20 years is now a columnist who writes for leading Indian international publications including the Times of India, Hindustan Times, Asian Age, Pioneer and YaleGlobal Online. He focuses on Indian domestic politics and foreign/trade policy, and their increasing interplay, as well as on the broader process of globalization and how it is influencing policy choices in not just the economy but in social sector spheres such as health, education and urbanization. In 2011, Ashok co-authored a paper, India's New World: Civil Society in the Making of Foreign Policy, published by the Lowy Institute for International Policy, Sydney. It looked at the influence of Indian business, news media and overseas communities on the Ministry of External Affairs in New Delhi. In 2012, Ashok's book, India: Spirit of Enterprise (Roli Books) was published. It encapsulates the story of the growth of India's leading private sector industries since 1991, and their role in the Indian economy. In the same year, he was a member on the bilateral Taskforce on Perceptions commissioned by the Australia India Institute, University of Melbourne, to assess and make recommendations on the relationship between Australia and India. In June 2013, Ashok was named to the Australia India Institute-ORF Chair for Indo-Pacific Studies. His work will focus on the bilateral relationship between India and Australia as well as emergent challenges related to maritime and energy security, and new institutional architecture, in the Indo-Pacific region.
---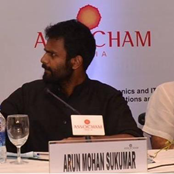 Arun Mohan Sukumar
Head – Cyber Initiative, ORF
Arun heads the Cyber Initiative at the Observer Research Foundation. He worked previously on the editorial boards of The Hindu and Indian Express as Assistant Editor, and wrote for the newspapers on law and foreign policy, broadly defined. He is a lawyer by training, educated at NALSAR, Hyderabad. He holds an MA in Law and Diplomacy from the Fletcher School, Tufts University, where he was the Douglas Dillon Fellow and the Leo Gross Prize recipient.
---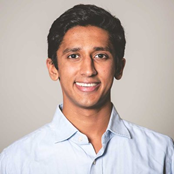 Viraj Doshi
Project Manager 270 Strategies
Prior to joining 270, he was a campaign manager in New Delhi, India, where he led a campaign to mobilize women into local voting blocs for the 2013 state elections. Viraj also worked in the field on President Obama's re-election campaign in Iowa, a critical "battleground" state during the 2012 U.S. Presidential elections. Between his experiences in Iowa and New Delhi, Viraj spent a year in Bogotá, Colombia on a Fulbright Research grant. His research explored how an education methodology applied in Colombian schools could have a long-term positive impact on political and civic participation among its alumni. Viraj earned degrees in Spanish and Political Science at Washington University in St. Louis. Originally from Raleigh, NC; Viraj now lives in Washington, D.C. Viraj enjoys eating his mom's home-cooked food and watching college basketball and The Wire.
---

Hari Sevugan
Principal 270 Strategies
Hari Sevugan is a Principal with 270 Strategies, where he has played a leading role on some of the most-watched races in the country over the last decade. Named one of Politico's "Top 50 Politicos to Watch," Hari has led research, policy, and communications teams on numerous statewide campaigns, and, among others, helped to elect Tim Kaine and Martin O'Malley as governor. In the 2008 election cycle, Hari served as a senior spokesman for Obama for America, where he helped lead the effort that worked to define primary opponents and later John McCain and Sarah Palin for the press corps. After the Obama campaign, Hari was appointed national press secretary at the DNC. There, in addition to being the chief spokesperson for the party, he oversaw national rapid response operations for legislative, electoral, and political efforts, which Time Magazine dubbed him one of "the President's best friends."  More recently, Hari has helped a national, nonprofit education advocacy group get off the ground, helped guide a political campaign in Asia to victory and ran a high-profile campaign in the New York City municipal elections.  Before he worked in politics and advocacy, Hari was an attorney and a middle school teacher in New York City. He is most proud of being the Glendale Heights, IL "Major-Minor Division" Little League MVP. He's also the reigning champion of fantasy football league.
---
David Nassar
Vice President of Communications The Brookings Institution
David Nassar is a digital media and social media specialist, has 20 years of experience in the United States and internationally developing effective public affairs, political and non-profit campaigns that create impact. He has run nationally recognized initiatives for the Service Employees International Union, the U.S. House of Representatives and the Open Society Foundation. Internationally, David has designed and helped implement programs to promote policies and behaviors that have improved elections, strengthened political parties and developed civil society in the Middle East and Africa.
---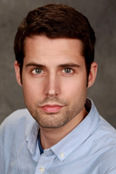 Chris Bruss
President of Digital Content and Funny Or Die's commercial production company Gifted Youth
Most recently, Chris served as Vice President of Branded Entertainment for Funny Or Die. He has been with Funny Or Die since 2009, and during that time has helped build and define Funny Or Die's award winning Branded Entertainment division. One of his many accomplishments was implementing a more sophisticated plan for translating the process between the world of Ad Agencies/Brands and the comedy/content community. Since 2007, Funny Or Die has produced over 250 branded entertainment campaigns, and has produced hundreds of branded entertainment videos. The division leads up to 10 campaigns per quarter. In November 2011, The Hollywood Reporter named Chris one of the top 35 Hollywood executives under 35, and in 2012 he served as Jury Chair of One Show Entertainment. In July 2013, Chris appeared on the cover of AdWeek magazine as part of their portraits issue entitled "LA Heat: 10 agencies and producers killing it in a town where marketing, technology and entertainment co-star." It recognized his Gifted Youth team for their work with Old Milwaukee Beer. Both Funny Or Die & Gifted Youth's work has been recognized by the CLIOs, Webbys, Digiday, One Show Entertainment & Cannes Lions. Prior to working at FOD, Chris worked in the Business Development group at the Creative Artists Agency (CAA). He currently works out of Funny Or Die's Hollywood office.
---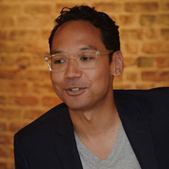 Brad Jenkins
Managing Director and Executive Producer Funny Or Die DC
Brad Jenkins is the Managing Director and Executive Producer of Funny Or Die DC, which is housed at the 1776 Campus in downtown Washington D.C. For the last four years, he served as President Obama's liaison and director of engagement to the creative and advocacy communities, bringing together creative executives, advocacy leaders, and some of the world's biggest stars to advance the President's agenda — including his Emmy-award winning "Between Two Ferns" interview on the Affordable Care Act. In addition to creating content; under Brad's direction, Funny Or Die DC provides consulting services on social media, talent outreach, writing, and branding strategies for a range of clients. Brad also served as Deputy Director of Special Projects for President Obama's 2008 campaign, directing the intersection of youth media and grassroots engagement. Prior to joining the White House, he was the Founding Vice President of Business Forward, an organization that brings entrepreneurs into the policymaking process. Brad also worked on the trading desk for asset management firm, Farallon Capital in San Francisco, CA.
---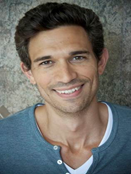 Mike Farah
President of Production Funny Or Die
Mike is focused on Funny Or Die's television, film and new business projects. In 2014, Farah won a Primetime Emmy for his work as executive producer of "Between Two Ferns with Zach Galfianakis: President Obama." Currently he is the executive producer of "Billy on the Street," airing on TruTV and TBS, "@midnight" airing on Comedy Central, "Funny or Die's America's Next Weatherman" airing on TBS, and the upcoming "Ferrell Takes the Field" for HBO. Farah, originally from Ann Arbor, Michigan and a graduate of Indiana University, started at Funny or Die in 2008. He was named one of the top 35 Hollywood executives under 35 by The Hollywood Reporter in 2010, was named one of "Hollywood's New Leaders" by Variety in 2013, and was fired from his job as a food expeditor at The Standard, Hollywood, in 2004.
---