Trainer Bios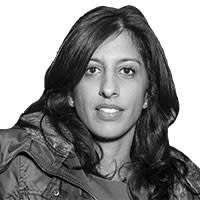 Sherizan Minwalla
Human Rights Lawyer Mercy Corps
Ms. Minwalla is a human rights lawyer who spent more than six years living and working in Iraq for Mercy Corps, Heartland Alliance for Human Needs and Human Rights, and the International Rescue Committee (IRC). She is an expert on gender based violence and access to justice issues both in the US and in Iraq.  Ms. Minwalla was IRC's Women's Protection and Empowerment Coordinator, responsible for programs assisting Syrian refugees and displaced Iraqis includong women and girls and survivors of gender-based violence in Baghdad and Kurdistan. She also established Heartland Alliance's legal and social protection programs designed to assist women and girl survivors of gender-based violence, human trafficking and juveniles in the criminal justice system.  As Iraq Country Director for Heartland Alliance, she oversaw the Baghdad Street Children's Center and managed programs for survivors of torture.
She is a graduate of the Chicago-Kent College of Law, has a Masters in Applied Sociology from Loyola University Chicago, and a BA in International Relations from the University of Cincinnati. Her publications include: Advancing Access to Justice for Sex Trafficking Victims in Iraq, American Bar Association, INTERNATIONAL LAW NEWS, Vol. 24 No. 4 (Fall 2013). She created and maintains Iraq Gender Justice.
---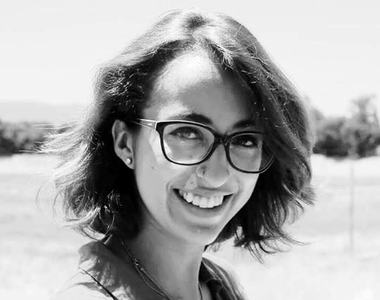 Lia Valero
Fellow; Independent Journalist Native Agency
Lia Valero is Colombian and an independent journalist. She currently dedicates part of her life to photography and the other part as a fellow of the Poynter Institute (Florida) and director of the membership program of Chicas Poderosas, an organization that promotes women's journalism in Latin America.
As part of her professional experience, Lia has documented for seven years different issues of human rights, gender, memory, and conflict in Bogotá and various regions of Colombia, where she has used audiovisual work as part of her journalistic journey. From Colombia, she has worked as a journalist at Mutante.org, Rutas del Conflicto, De Correspondent, and VICE magazine. Lia is fluent in Spanish, English, and Portuguese.
---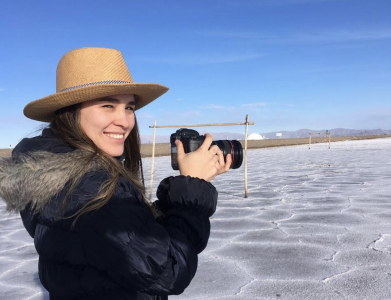 Nathalia Restrepo Hernández
Video Content Creator Netflix
Nathalia es periodista especializada en video y producción audiovisual. Actualmente es Video content creator para Netflix y Coordinadora audiovisual en Reverso, el programa de verificación para las elecciones argentinas 2019. Tiene experiencia en conformación de equipos de video, guiones y coberturas en vivo para redes sociales. Trabajó como Directora Audiovisual en RED/ACCIÓN.
Ha colaborado en Infobae y Unicef Argentina. También trabajó en TKM como reportera entrevistando personalidades del mundo de la música y la cultura. Participó en el desarrollo de producto de No Pausa, un medio pionero en abordar el tema de la menopausia. Ha dado workshops y capacitaciones para medios regionales en la formación de equipos audiovisuales, storytelling, coberturas en vivo.
Estudió Licenciatura en Ciencias de la Comunicación en la UADE, y se graduó con honores. Coordinó diferentes proyectos editoriales en medios impresos y web en Colombia. Es parte de la comunidad internacional Chicas Poderosas.
---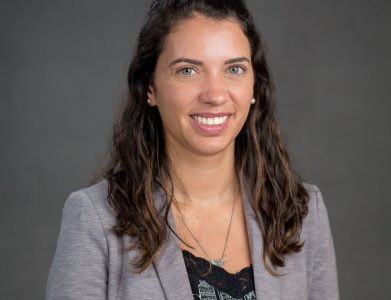 Luiza Bandeira
TechCamp Mentor Researcher and Editor at the Digital Forensics Research Lab, Atlantic Council
Español
Luiza Bandeira, Investigadora y Editora en el Digital Forensics Research Lab del Atlantic Council
Luiza Bandeira es una periodista multimedia brasileña con 12 años de experiencia. Ha trabajado para el Servicio Mundial de la BBC, en Londres, y con algunos de los medios periodísticos más importantes de Brasil, tales como Folha de S.Paulo y Nexo.  Para las elecciones de 2018, Luiza fue la líder de "El Poder de Elegir Brasil", un proyecto de fact-checking enfocado en WhatsApp.
Actualmente se desempeña como investigadora y editora en el DFRLab (Digital Forensics Research Lab), parte del think tank Atlantic Council basado en Washington, DC. Como investigadora, ella estudia campañas de desinformación en América Latina.
Obtuvo un MSc en Política Social y Desarrollo de la London School of Economics, en Londres
Inglés
Researcher and Editor at the Digital Forensics Research Lab, Atlantic Council
Luiza Bandeira is a Brazilian multimedia journalist with 12 years' experience. She has worked for the BBC World Service, in London, and with some of the most important news outlets in Brazil, such as Folha de S.Paulo and Nexo. During the 2018 elections, Luiza was the leader of "El Poder de Elegir Brasil", a fact-checking project focused on WhatsApp.
She is currently a researcher for the DFRLab (Digital Forensics Research Lab), a center of the DC-based think tank Atlantic Council. As a researcher, she investigates disinformation campaigns in Latin America.
She has obtained an MSc in Social Policy and Development from the London School of Economics
---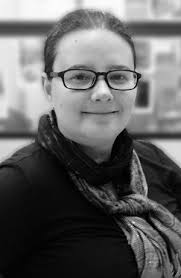 Ana María Saavedra
Editora General y Coordina ColombiaCheck
Comunicadora social y periodista de la Universidad Autónoma de Occidente. Ha trabajado como periodista de las secciones Orden y Unidad Investigativa del diario El País de Cali y luego como editora de Orden. Desde 2018 trabaja en Colombiacheck, donde actualmente trabaja como editora y coordina el proyecto contra la desinformación.
También ha trabajado como tallerista de Consejo de Redacción en Fact checking y herramientas digitales para la verificación de desinformaciones y de cursos de Periodismo con Visión de Género, un proyecto realizado por Colprensa y el programa Justicia para una Paz Sostenida de USAID. En dicho proyecto fue la coordinadora editorial de la guía 'Cómo narrar la justicia en Colombia'.
En su carrera ha sido galardonada con los premios:
Semana Petrobras por el trabajo 'Buenaventura, más allá de las cifras'; Premio de la Sociedad Interamericana de Prensa por mejor Cobertura de Noticias por Internet por el  Especial 'El Caso Jamundí, un año después; Premio Simón Bolívar, en su categoría Beca al periodismo joven por el especial 'El Caso Jamundí, un año después, en su edición impresa; Premio de Periodismo Rodrigo Lloreda Caicedo a mejor entrevista por Entrevista a Ever Veloza, comandante del Bloque Calima de las autodefensas;  Premio Gabriel García Márquez a Mejor Cobertura por el Mapa de la Muerte, 15 años de violencia en Cali y mención de Honor en los Premios de Excelencia Periodística de la Sociedad Interamericana de Prensa, SIP.
//
Ana María Saavedra (Colombia) is the Editor of Colombiacheck, the first digital communication medium dedicated to fact-checking, verification of public discourse, and combatting misinformation in the country. For 16 years she worked for the newspaper El País in Cali, Colombia, where she was a reporter for the Regional, Investigative Unit, and Judicial teams. Later, she was the editor of the Judicial Section, called Orden.
She graduated from the Social Communication program at the Universidad Autónoma de Occidente, in Cali. In 2009, she was selected by the Iberis program in the Scholarship for Young Ibero-American Journalists. For six months she worked at El País de España in the Madrid section. She was awarded the Semana Petrobras Awards in 2007 for her work on Buenaventura beyond numbers; and an additional Simón Bolívar Journalism Scholarship, for her work covering the Jamundí Case, a year later. For that same report, presented together with her web team, she received awards from the Inter-American Press Association for best work on the internet and the Alfonso Bonilla Aragón.
In 2017, she was one of the winners of the Gabriel García Márquez Award for Best Coverage for the work "El mapa de la Muerte, 15 years of violence in Cali." In these years of her career, she has specialized in covering issues of armed conflict, organized crime, drug trafficking, and citizen security. Her emphasis is on covering the southwest of the country, although she has covered news from all over Colombia. Her work as a reporter has taken her to Putumayo to carry out reports on the tragedy of this department by paramilitary and then, after the death of Raúl Reyes, to Meta and Caquetá to carry out work for the Omega Task Force, the first of this type, and to Tumaco, the population with the most illicit crops in the whole country.
---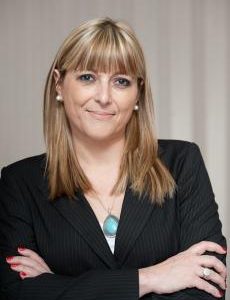 Sandra Crucianelli
Coordinadora Unidad Inteligencia de Datos Infobae
Sandra Crucianelli es experta en periodismo de bases de datos y de investigación. Es capacitadora en el Centro Knight de la Universidad de Texas y en el Centro de Capacitación en Periodismo Digital de la Universidad de Guadalajara, México. También es miembro del Consorcio Internacional de Periodistas de Investigación (ICIJ) y ex miembro Knight del Centro Internacional de Periodistas (ICFJ). Actualmente coordina la Unidad de Inteligencia de Datos en Infobae.
---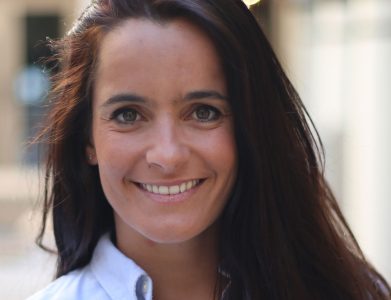 Mariana Santos
Founder and CEO Chicas Poderosas
Mariana Santos is a Portuguese girl who wants to change the world, and is working on it right now as the Founder and CEO of Chicas Poderosas, a global community that promotes female leadership and generates knowledge to shape the future of the media, one chica at a time. She started this project started five years ago at Stanford. She's a visual storyteller who did groundbreaking work as a member of the interactive team at The Guardian in London. A trained animator, she pioneered the newsroom's use of motion graphics to make data stories more compelling. She leads design thinking workshops to increase multidisciplinary approach to storytelling, and she is a leader in community transformation and digital training.
In addition to running Chicas Poderosas, Mariana also is a public speaker and moderator on media innovation, women empowerment through technology and digital leadership, as well as alumni of the JSK Journalism Knight Fellowship at Stanford, 2015.
Until 2016, she was the Director of Interactive and animation at Fusion Media, a joint-venture between Univision and Disney ABC. She was also the the Knight Chair of Innovation at Florida International University in 2015/16 and a 2014 ICFJ Knight International Journalism Fellow, where she worked all across Latin America in major newsrooms and with independent journalists.
---