TechCamp Guatemala alumnus and YLAI Network member Hanz Heinz Guzmán used his original TechCamp experience in April 2018 to come up with the idea for an online/virtual observatory concept to monitor government spending on anti-child trafficking efforts, Educando mi Perú. "Peru suffers high rates of aggression against women, children, and adolescents," said Guzmán, of the NGO Tejiendo Sonrisas, which focuses on social and economic inclusion. "It is necessary to counteract (this) with attractive mechanisms to young people who, being a majority population, have greater access to virtual media."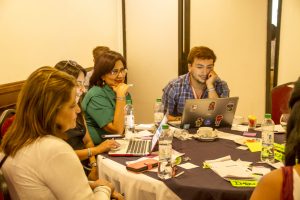 His idea was to create a virtual observatory that would monitor public and private spending on programs that combat child exploitation. "The implementation of this online space would improve the approach of the information to the majority sector of the population and to the most reluctant to understand or visualize this problem," he said. 
The platform, which received funding from the TechCamp program, is now in its final stages of design and will be launched on April 2019, in Puerto Maldonado, Peru. Guzmán envisions using the platform to reach young people, civil society advocates and government representatives in the Lima and Madre De regions as they work on anti-child exploitation efforts.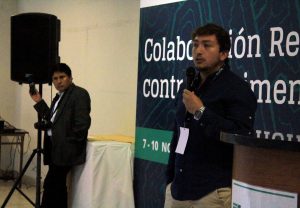 From here, he plans to measure the success of the online observatory via web traffic and monitoring the active participation of civil society groups who are tracking how public funds are used for the prevention of violence and harm to children. 
After TechCamp Guatemala, Guzmán went on to serve as an alumni adviser at TechCamp Peru in November 2018. He helped open TechCamp Peru by explaining his TechCamp-inspired project idea and inspiring other participants to create their own solutions for good governance. He then worked to coach new participants on how to maximize their TechCamp experience and worked closely with the private sector technology trainers to help participants develop the right solutions to make a difference in their own communities.