TechCamp Malaysia alumni Melinda Quinones from the Philippines and Lai Cheng Wong from Malaysia launched an online mini TechCamp with participants from both countries.
Quinones and Wong participated in TechCamp Malaysia, the first online TechCamp organized by the U.S. Embassy in Kuala Lumpur and Penang Institute in October, 2020. The event brought together journalists, content creators, and media professionals to learn and develop technology-based solutions to the disinformation challenges they face in the modern media landscape.
TechCamp mentors, Darin Bielecki of the International Republican Institute, Mimi Van Dun of Mediawijzer.net, and Kuek Ser Kuang Keng of Data-N, inspired Quinones and Wong to pitch a project that would create a multiplier effect in their communities.
"TechCamp brings together like-minded people and helps turn our ideas into action," Quinones said.
Their idea was to conduct a three-day mini TechCamp to train secondary school teachers and teacher educators in integrating Media and Information Literacy (MIL) into their lesson plans.
"By focusing on secondary school teachers and teacher educators, we hope to harness the potential of the multiplier effect," Wong said. She continued to emphasize the causal relationship of championing MIL in schools leading to information literate societies.
Quinones and Wong established strategic partnerships with reputable organizations in Malaysia and the Philippines, namely Centro Escolar University (CEU), Polytechnic University of the Philippines (PUP), and SEAMEO RECSAM.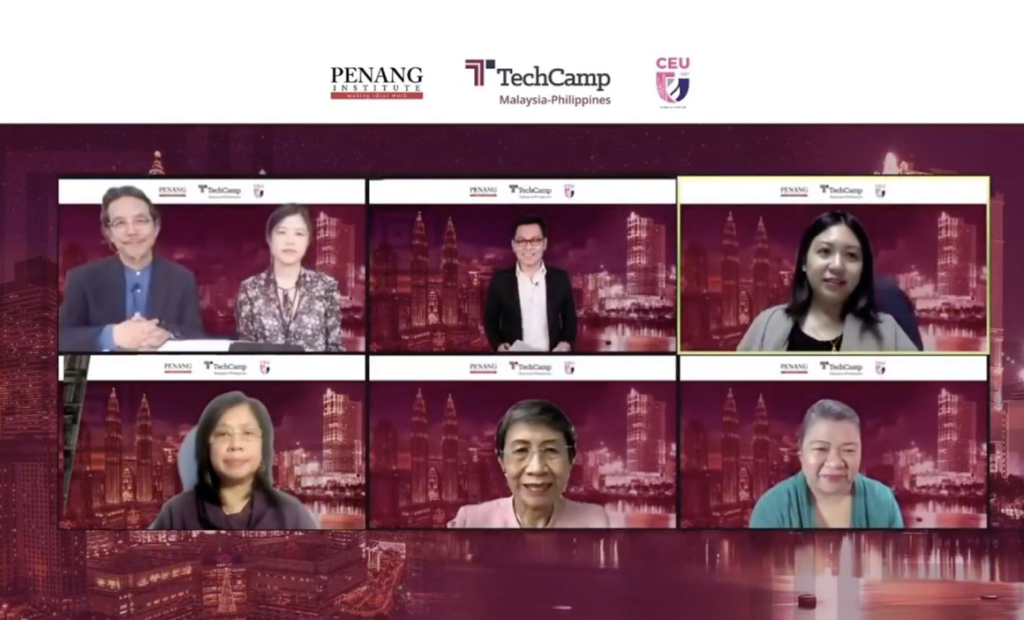 The three-day mini TechCamp, which happened from March 29 to 31, 2021, focused on the theme "Teaching Media and Information Literacy Skills in Everyday Life." The workshop topics underscored the country-specific media landscapes and provided strategies to deconstruct media and information sources through fact-checking information, and countering false information. Resource speakers also shared some best practices on cyber safety, data privacy, and data protection.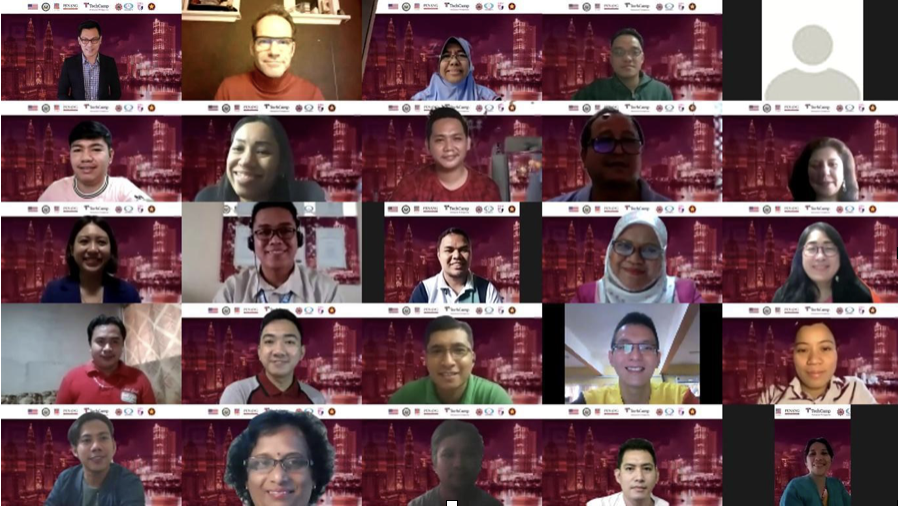 TechCamp Malaysia-Philippines' Workshop Outcomes
The evaluation results showed that despite their reported intermediate level of expertise in teaching media and information literacy, participants' overall knowledge level increased by 3% after the workshop.
Initial improvement in the pre-test and post-test scores was observed on fact-checking items, which garnered a four-point difference or 9% increase between the pre-and post-test. Moreover, there was a three-point difference or 7% increase between the pre-and post-test on creating media content and a two-point difference or 5% increase on digital media as an information dissemination tool.
Overall scores on participants' practices relative to teaching media and information literacy have increased, manifesting the expected change in post-TechCamp teaching practices.
Specifically, participants reported that before the mini TechCamp, they often included media and information literacy concepts in facilitating learning, based on the overall mean score. After the workshop, participants were expected to facilitate activities that integrate
media and information literacy concepts as manifested in an overall increased computed mean survey score.
Two months after the workshop, the team invited the participants to an online focus group discussion to validate the pre-test and post-test survey results. In the session, participants shared their post-workshop practices in integrating media and information literacy in their lessons.
The three-day mini TechCamp successfully shared new information and reinforced participants' existing knowledge, attitudes, and practices regarding media and information literacy.
Most participants admitted that it was their first time attending a workshop on media and information literacy. In fact, some initially thought media and information literacy were related to technology use, while others joined simply out of curiosity.
"When I joined [the mini TechCamp], I was clueless. It was curiosity that made me register. But it was the best decision I ever made!" said Adam Geordrey Anak James Mairodi, a secondary school teacher from Malaysia.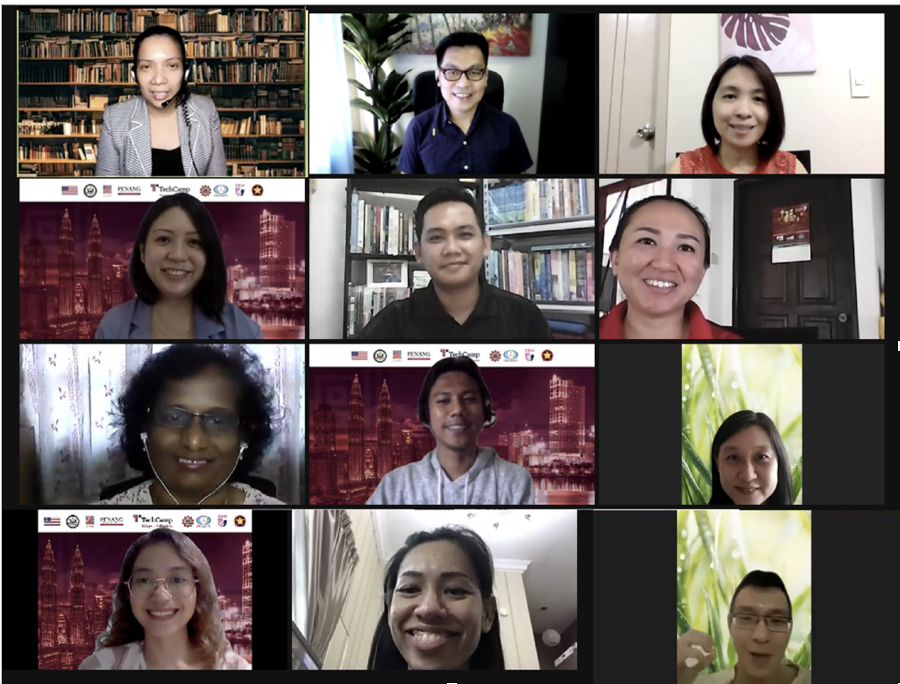 A Filipino participant and secondary school teacher shared that the mini TechCamp inspired him to hold a mobile journalism webinar in his local community.
A Chemistry teacher from Malaysia presented her paper on integrating media information literacy in Chemistry at the 3rd International Conference in Science, Technology, Engineering, and Mathematics (ICSTEM) in September 2021.
Meanwhile, Quinones and Wong turned the result of the mini-Techcamp evaluation into a research paper, which was presented at the International Expert Conference on Audience Media and Information Literacy, organized by the Moulay Ismail University of Meknes in Morocco and UNESCO.



Ways Forward
The work of building a knowledge-based society that can counter the effects of media misinformation and disinformation should not end with a one-off workshop.
Quinones and Wong established an online and offline support group called Media and Information Literacy for ASEAN Network (MIL for ASEAN Network) to sustain the movement.
Now a proud member of the UNESCO MIL Alliance, formerly known as the Global Alliance for Partnerships on Media and Information Literacy (GAPMIL), the MIL for ASEAN Network can connect with international experts on media and information literacy for benchmarking and knowledge-sharing.
In partnership with CEU and SEAMEO RECSAM, the team also started conducting online dialogues and webinar series for secondary school teachers and teacher educators on integrating media and information literacy in their subject areas.
"One defence against the infodemic is to ensure that our citizens acquire MIL competencies…the education of our future generation must be geared towards providing them with skills and knowledge that will empower them to be media and information literate — critically evaluate information before using or sharing it," Wong said.
This is Part One of a two-part Blog Series featuring the progress of Melinda Quinones and Lai Cheng Wong's Continued Engagement Small Grant project.