When the Thessaloniki International Fair was canceled due to COVID-19 restrictions, the TechCamp Program quickly pivoted its programming to the digital. Dedicated to developing networks and mentorship among Greek women entrepreneurs, the TechCamp team with U.S. Embassy Athens and Socialinnov organized a four-part virtual series: "TechCamp Thessaloniki: Empowering Women Entrepreneurs."  Virtual Kickoff The virtual kickoff event via Zoom was a huge success. Although everyone missed the intimacy of in-person programming, the flexibility of the virtual enabled huge strides in audience numbers and hosted a diverse group of participants and speakers. 45 female entrepreneurs from Greece and the Balkans region were in attendance, as well as TechCamp organizers and the U.S. Ambassador to Greece.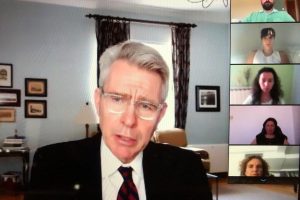 Ambassador Pyatt introduced the virtual event and highlighted the importance of facilitating women's economic participation, "in a place like Greece, where you've got the global challenge of the COVID pandemic… but also the challenge of coming out of a ten-year economic crisis." Showing his admiration for female entrepreneurs he said, "certainly in my experience over the past four years, some of the most inspiring and impressive young entrepreneurs I've met in Greece happen to be women. They are people who are carving their own path in industries that will define the future of our knowledge-based economy."  Female Entrepreneurship in Greece Although Greek startups have been growing both in numbers and in received funding over the last four years, there are still far fewer female entrepreneurs than their male counterparts. Women founders make up only 12% of the pre-seed and seed stage of Greek startups, a statistic that places Greece among the last six countries in the EU28. To address these inequities, TechCamp Thessaloniki was created to help women entrepreneurs design solutions to overcome certain barriers in their business's life cycle: from launch to fundraising, to customer development. TechCamp Thessaloniki's Solutions The implementing partner, Socialinnov, was essential to selecting participants from the entrepreneurial ecosystem in Greece. Women with businesses at an early stage, who had not yet received funding or developed a large clientele were invited to the TechCamp. An entrepreneurial incubator and educator, Socialinnov offered participants the opportunity to develop their businesses and digital skills through targeted training programs.
One of Socialinnov's core development goals is gender equality, providing 3,456 women with professional empowerment to help reduce the gender gap in Greece. The program enhanced participant's ability to convert ideas into action and to scale their startups into the types of businesses that contribute both to the economic growth and social stability of their communities.  To make the program more impactful, participants drove the topic of conversation. They expressed a desire to develop skills in business strategy, financing, digital marketing, and networking. Through presentations on these topics, participants were able to increase their technical capacity and improve and expand their businesses beyond their country's borders.
One session focused specifically on tools and platforms for digital marketing and visual storytelling. Doug Arellanes taught participants how to build their brand and receive funding through compelling multimedia storytelling. He emphasized the importance of understanding customers' needs with laser-like precision and building an emotionally resonant brand story. He even gave participants tips for creating their own visual media, offering advice in the Slack channel post-session.  TechCamp Thessaloniki is committed to helping women succeed as entrepreneurs. The creativity, energy and persistence of the female participants made for an enjoyable and interesting program. TechCamp trainers and organizers were humbled and impressed by the caliber of participants and the diversity of ideas in these fantastically innovative startups. It was especially inspiring to watch these entrepreneurs collaborate on a peer-to-peer basis, developing business solutions and networking throughout the process.  This fully virtual series of seminars was an excellent introduction, and TechCamp Thessaloniki hopes to return to in-person programming for the Thessaloniki International Fair in Fall 2021.