On February 18, 2021, TechCamp hosted its first-ever Alumni Ties TechCamp Reconnect virtual webinar on "Advancing Digital Citizenship Through Media Literacy." The welcome webinar brought the smiling faces of TechCamp alumni and trainers from TechCamp Guayaquil, TechCamp Argentina, TechCamp São Paulo, TechCamp Guatemala, TechCamp Peru,  YLAI TechCamp Bolivia, TechCamp CDMX, and TechCamp Bogota together over zoom to discuss strategies for strengthening media literacy. The webinar was a great opportunity for alumni to network online, meet new people in breakout rooms, and form meaningful cross-border relationships.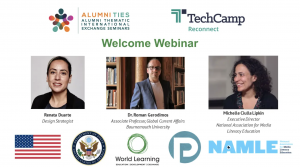 The seminar kicked off with three-time TechCamp trainer alumna and design strategist, Rey Duarte, giving a presentation on human-centered design in relation to media literacy. Duarte challenged the attendants to embrace ambiguity and cultivate empathy for the user in order to create intentional and impactful designs. She prompted the participants to consider the biggest challenges currently regarding media literacy, which sparked a thoughtful conversation about possible design solutions.
Next, Dr. Roman Gerodimos gave a presentation on the challenges facing democratization and engagement in the context of digitization, globalization, and misinformation. He promoted media literacy by illuminating some of the dangers of misinformation, such as weaponizing data and digital interactions. Underscoring his presentation was the consequential relationship between democracy, an engaged citizenry, trust, and truth. He pointed out how geopolitical interest funding through targeted online campaigns has created a toxic environment of attacks online. This toxicity and negativity have contributed to a feeling of exhaustion amongst digital citizens, who seem to be conceding the idea of civil coexistence and democracy. Sociopolitical cleavages and grievances against elites have empowered misinformation and conspiracy theories through cynical power politics, in which people feel like disempowered pawns. In order to curb these feelings of indifference and disempowerment, Dr. Gerodimos emphasized the importance of media literacy for critically evaluating sources and establishing universal truths.
This webinar was just the beginning, and the conversation continued March 15-26, 2021 over a two-week period. The workshop series aims to accelerate the development of innovative technology-supported solutions and digital strategies for strengthening media literacy, with sub-topics including democratic governance, transparency, elections, anti-corruption, and post-COVID-19 disinformation. Stay tuned over the next month for more information!
About TechCamp Reconnect:
TechCamp Reconnect is an initiative launched by the U.S. Department of State TechCamp Program in 2017 to enhance engagement with program alumni and to connect them with additional training, mentorship, and support to amplify the impact of the initial workshops. Private sector experts work with the alumni to provide additional subject matter expertise, professional development, and support to further build out clear action plans for scaling or accelerating the impact of their TechCamp-inspired projects using cutting-edge digital technologies.
About Alumni TIES:
Alumni Thematic International Exchange Seminars (Alumni TIES) are regionally focused seminars for U.S. government-sponsored exchange program alumni. Participants learn about key regional issues, receive training, and collaborate with fellow alumni to implement community projects in their home countries upon their return. World Learning works in cooperation with the U.S. Department of State to design these seminars, coordinate all program logistics, and administer the small grants program.
About Alumni TIES TechCamp Reconnect:
Alumni TIES TechCamp Reconnect combines the best elements of each of these programs to unite 100 Exchange Alumni from the United States and TechCamp alumni from across the Americas virtually, who will share ideas and experience mentorship and training from our expert trainers and facilitators. Following the virtual workshop, participants will have the opportunity to apply for small grant funds to implement project ideas they developed to address media literacy issues in their communities.